Related Links
Recommended Links

Site News
CD Review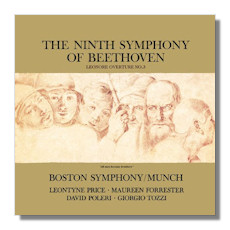 The Art of Charles Munch Vol. 6
Overture "Leonore" #3
Symphony #9 "Choral"
Leontyne Price, soprano
Maureen Forrester, contralto
David Poleri, tenor
Giorgio Tozzi, bass
New England Conservatory Chorus
Boston Symphony Orchestra/Charles Munch
RCA 38428
#9 available on RCA Living Stereo remaster 88697-70299-2: Amazon - UK - Germany - Canada - France - Japan
This issue is from a Japanese series devoted to Charles Munch. Both the Japanese and French have shown greater appreciation for the Munch discography than have the Americans, but credit ArkivMusic for allowing these to reach the domestic market. These thrilling, powerhouse performances aren't for everyone, but they certainly deserve to be heard for their special qualities.
Long regarded as a French specialist, (as far as I know) Munch recorded all of the Beethoven symphonies for RCA save for #2 and #4. He did not record them all at once, nor (as with Brahms) did he seem concerned with recording an entire cycle or completing the project. His immediate successor Erich Leinsdorf would set down all nine, and with mixed success. This angry, brooding #9 is hampered by a slight lack of subtlety and rather harsh sound. Sporadically available in the U.S., the most recent issue from Sony/RCA omits the overture, but the sound could be improved (I've not heard it) and the liner notes in that series are unsurprisingly in English.
Still, Munch gives us one of the most urgent first movements ever. The Boston Symphony sounds magnificent, and the conductor also shows his softer side with a gorgeously spun Adagio. In the Finale, I find the unflattering aural picture most troubling, but all of the soloists (led by Price and Forrester) and choral forces sing very well. The Leonore #3 sounds better overall despite the earlier recording date, and showcases the same level of excitement and artistic quality. Unless Sony releases a box of Munch's Classical period recordings, this is the only way I'm aware of to acquire these pieces together. This is another priceless memento of an outstanding partnership.
Copyright © 2014, Brian Wigman