CD Review
The Immortal Toscanini, Volumes I - III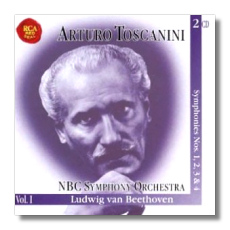 Symphony #1 in C Major, Op. 21 (1800)
Symphony #2 in D Major, Op. 36 (1802)
Symphony #3 "Eroica" in E Flat Major, Op. 55 (1803)
Symphony #4 in B Flat Major, Op. 60 (1806)
Overture "Egmont" Op. 84 (1810)
NBC Symphony Orchestra/Arturo Toscanini
RCA Victor Red Seal 74321-55835-2 ADD monaural 2CDs: 60:38, 77:04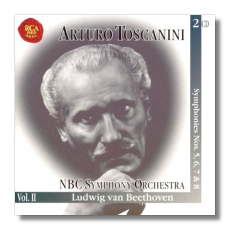 Symphony #5 in C minor, Op. 67 (1807)
Symphony #6 "Pastoral" in F Major, Op. 68 (1808)
Symphony #7 in A Major, Op. 92 (1812)
Symphony #8 in F Major, Op. 93 (1812)
NBC Symphony Orchestra/Arturo Toscanini
RCA Victor Red Seal 74321-55836-2 ADD monaural 2CDs: 70:21; 58:17

Symphony #9 "Choral" in D minor, Op. 125 (1824)
"Missa Solemnis" in D Major, Op. 123 (1823)
NBC Symphony Orchestra/Arturo Toscanini
Robert Shaw Chorale
Eileen Farrell & Lois Marshall, sopranos
Nan Merriman, mezzo-soprano
Jan Peerce, Eugene Conley, tenors
Norman Scott & Jerome Hines, basses
RCA Victor Red Seal 74321-55837-2 ADD monaural 2CDs: 64:38, 74:34
Almost a decade ago, BMG Classics began releasing its Arturo Toscanini Collection, a 71-volume retrospective of the conductor's RCA Victor recordings. Toscanini's Beethoven symphonies were the first releases. Well, as some comedian said, "it's déjà vu all over again," because BMG is back on the Toscanini bandwagon. These first three volumes were issued at the end of 1998, and the first months of 1999 will see the label reissuing the Brahms symphonies as well.
Why? The answer comes in a signed introductory note by Walfredo Toscanini (the conductor's grandson), Allan Steckler (manager of the conductor's estate), and Niels Høirup (product development at BMG Classics). Quite simply, the goal is to provide even better sound than was available last time around. "Since the Toscanini Collection was first released on compact disc approximately a decade ago," they write, "major innovations have occurred in sound restoration." These innovations include 20-bit recording technology, UV22TM Super CD Encoding, Cello and Studer tape systems. To most listeners, include myself, these are merely words, and the proof of the pudding, to ruin the metaphor, is in the hearing.
The improvement is immediately noticeable. Now the sound has opened up and the instruments stand in a more distinct relationship to one another. There's an appealing resonance here that was less apparent before.The bass is more potent, yet it retains its smoothness, and the treble is less strident. Noise has been reduced, but no musical information appears to be missing. Although it's not an audiophile's dream-world, it's extremely easy to listen to. Listen to the way Norman Scott's voice bursts out of the speakers at "O Freunde!" in the "Choral" Symphony and I think you will be convinced.
Regarding Toscanini's musicianship, if I wasn't hoping to slaughter a sacred cow, at least I was planning to tease it a little. Is there corresponding substance behind Toscanini's massive reputation? Was he, as is stated in the introductory note, "perhaps the most towering Maestro of the 20th century"? (This makes him sound more like an Irwin Allen disaster flick than a conductor of symphony orchestras.) My tolerance for hype, even when it's cloaked in tradition, is limited. Asked to give a brief evaluation of his musical career, I would paraphrase Hamlet: "He was a conductor, take him for all in all; We shall not hear his alike again." I would balk at the statement that Toscanini was the "greatest" conductor, but "towering" seems about right to describe the combination of his influence, his reputation, his integrity, his dedication, and his musicianship. His Beethoven is no more definitive than that of many other conductors; no one can have the final word in repertoire such as this. To my mind, the greatest obstacle Toscanini faced was his tendency to drive music – Beethoven's included – so hard that it seemed tense, even brittle. Certainly there are times when this is appropriate, but there as many times when one wishes that the conductor would relent just a little. Having said that, it is pleasure to report that Toscanini's Beethoven, albeit often driven, is virile, athletic, impeccably structured, and emotional, and the NBC Symphony Orchestra sounds wonderful, particularly in these new remasterings. Carnegie Hall brought out the best in their sound.
These volumes are twofers: two discs for the price of one. This makes them a little cheaper than the older collection, which came out on the mid-priced Gold Seal line. Robert Hupka's justly famous on-the-job photographs have been replaced with a posed head-shot of the Maestro. It makes him look a little like Vincent Price in a thoughtful mood.
There is evidence that bringing these discs to market was a rush job. The spines of the CDs consistently identify Toscanini's orchestra as the "NBC Symphoniy [sic] Orchestra." Furthermore, not one of the advertised disc timings is correct; all three volumes allegedly consist of 2 discs with playing times of 58:43 and 76:43, but, as can be seen above, this is not true for any of three volumes reviewed here. Nevertheless, this is excellent stuff. The average listener may not need to replace their Toscanini Collection CDs, but newcomers, there's no time like the present to meet two great men: Beethoven and Toscanini.
Copyright © 1999, Raymond Tuttle