Related Links
Recommended Links

Site News
CD Review
Russian Capriccios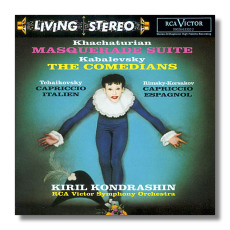 RCA Victor Symphony Orchestra/Kiril Kondrashin
RCA Living Stereo 63302
"United in this lively and attractive recording are three big Ks of Soviet music – Kabalevsky, Khachaturian and Kondrashin." So opens the liner notes written for the LP release of half this disc. Kondrashin? Apparently RCA was attempting to capitalize on the conductor's collaboration with Van Cliburn. Whatever. I, for one, am pleased that this disc has finally been issued.
Years ago I heard Kondrashin's "Capriccios" on a Quintessence LP. I loved it and it has remained a paradigm in my mind. Others have come close to his excitement, but none met it. In fact, Kondrashin out Stokowski's Stokowski! The strings have a Russian sound that only Kondrashin could have gotten out of this ad hoc orchestra. My God! The tambourine player at the close of Tchaikovsky's 'italien' should have been credited. Then there's the solo violin in Rimsky's Capriccio! Then, again, there are the castanets. I am happy to report that this CD recaptures the excitement and Slavic essence I remembered. Maybe you can go home sometimes.
I recall that my dad had the LP of the Kabalevsky and Khachaturian pieces, the reproduced cover recalls memories. If Kabalevsky's name doesn't ring any bells, perhaps Khachaturian's does because you have heard the Gayaneh Suite or Spartacus. If you are familiar with Khachaturian's Suites you will know what to expect in these pieces, too. There is a Russian flavor to the music, though this is not Shostakovich by any means. The music is lighter and has references, at times, to Russian folk tunes. Anyway, they are fun. The "Pantomime" in The Comedians is wonderful, memorable even. I may prefer Stokowski's recording of the Masquerade, but that is monaural and not available on CD at the time.
The transfers are excellent, the sound belies its age. This is just plain fun. Buy and enjoy an evening of pleasant listening.
Copyright © 1999, Robert Stumpf II