Related Links
Recommended Links

Site News
CD Review
Russian Capriccios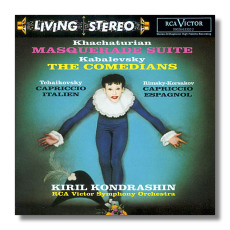 RCA Victor Symphony Orchestra/Kiril Kondrashin
RCA Victor Living Stereo 09026-63302-2 ADD 64:06
Soviet conductor Kiril Kondrashin visited the United States in 1958. Although his visit was mostly a consequence of pianist Van Cliburn's Tchaikovsky Competition victory in Moscow (the conductor recorded concertos by Tchaikovsky and Rachmaninoff with Cliburn), Kondrashin was invited to make some orchestral recordings without the pianist. This CD contains the complete material from two LPs that originally were taped on October 29-30 in 1958. The LPs have been treasured by audiophiles and admirers of dynamic conducting alike ever since. Their release on a single Living Stereo CD answers many, many requests, according to Nat Johnson, BMG Classics' Senior Reissue Producer.
It is remarkable to me how infrequently the Khachaturian has been recorded. Masquerade is incidental music to Lermontov's play of the same name. The music is tuneful and instantly appealing, with just a touch of Russian melancholy and irony. Many people already know the "Comedian's Galop" from Kabalevsky's score (it has been parodied to the words "I love her madly but she's so fat"); the rest of the score is attractively impudent too. Tchaikovsky's and Rimsky's two Capriccios need little introduction.
Kondrashin's conducting is excitable. In fact, he plays the dickens out of these four scores. There isn't a lot of subtlety in his interpretations, and they are not note-perfect, but they are among the most thrilling on disc. The fat sound of the RCA Victor Symphony Orchestra contributes to the punchy quality of these performances. The recording quality is not perfectly smooth – probably it never was. Nevertheless, it shows the music and the Orchestra off to good advantage, and it still has the potential to break a lease or two.
This is strictly for fun.
Copyright © 1999, Raymond Tuttle