CD Review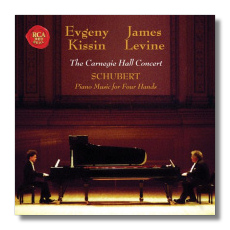 The Carnegie Hall Concert
Fantasie in F minor for Piano Four Hands, D. 940 [18:45]
Allegro in A minor for Piano Four Hands, D. 947 [15:17]
Sonata in C Major for Piano Four Hands "Grand Duo", D. 812 [40:47]
Characteristic March #1 in C Major, D. 968b [6:02]
Military March #1 in D Major, D. 733 [4:39]
Evgeny Kissin, piano
James Levine, piano
Recorded Live, Carnegie Hall, New York City, 1 May 2005
Released February 2006
RCA Red Seal 69282 2CDs 85:30
Comparisons:
Fantasie in F minor – Perahia/Lupu/Sony
"Grand Duo" & Military March – Barenboim/Lupu/Teldec
The Music – Schubert composed his four-hand piano music primarily for domestic enjoyment with his friends. The masterpiece among these works is the sublime and emotionally throbbing Fantasie in F minor, although the most popular is the Military March #1. Likely the most interesting four-hand work Schubert composed is his "Grand Duo" which has such a strong symphonic conception that it even fooled Robert Schumann who thought it was an orchestral symphony transcribed for four-hand piano.
As noted in the heading, the work lasts about 40 minutes; it is in four movements and only the 3rd Movement Scherzo and Trio (about 5 minutes) might be considered concise. Despite valid accusations that the "Grand Duo" is too long for its basic material, the work does contain some wonderful melodies and the patented Schubert singing style. Also, the 4th Movement Allegro vivace will remind many listeners of the bold and brash Beethoven.
The Performances – Schubert's four-hand piano music was written for two performers at one piano. Kissin and Levine take a different approach by playing two Steinways, and the results are revelatory. In effect, the performances possess an intensity and fullness of texture not found on alternative recordings. Of course, Kissin and Levine play a major role, as they give power-house interpretations emphasizing the dark colors and friction of Schubert's music.
Sonics – Exceptional from the top notes on down, with the bass line being particularly well projected and detailed. Such impressive bass response enhances the dark nature of the performances.
Alternative Versions – There are more than a few alternative recordings devoted to Schubert's piano four-hand music, and the two I favor most are the comparison versions listed in the heading. Although the Fantasie of Murray Perahia and Radu Lupu has long been my favorite, I now have to give top place to Kissin and Levine; their greater drama and emotional intensity pays major dividends in this soulful work. With Barenboim and Lupu, the results are not as easily determined. Kissin and Levine offer a more poignant 2nd Movement Andante in the "Grand Duo", but their 3rd Movement Scherzo is rather heavy and the famous Military March could use greater rhythmic lift and fluidity.
Any Controversial Items? – One, and it revolves around the issue of intimate vs. public performance styles. As I indicated earlier in the review, Schubert wrote his four-hand piano music for the drawing-room, not the concert hall. In this sense, Kissin and Levine are going against the grain in selecting this music for a Carnegie Hall concert, in selecting to play two pianos, and in selecting to intensify the emotional heat of the scores. Simply in terms of musical engagement, I find the public and intense approach quite successful.
Don's Conclusions: I strongly recommend Kissin, Levine and their two big pianos to all Schubert piano music fans except those who must have the four-hand works in an intimate setting. Some of you might look at Kissin as sometimes mannered and wayward, but I assure you that he behaves himself at all times in his fruitful partnership with Levine who is an exceptional pianist in his own right.
Copyright © 2006, Don Satz