CD Review
ReDiscovery
Symphonie fantastique
Roman Carnival Overture
Waverly Overture
L'Orchestre de la Société des Concerts du Conservatoire/André Vandernoot
Royal Philharmonic Orchestra/Adrian Boult
ReDiscovery RD071 ADD 70:49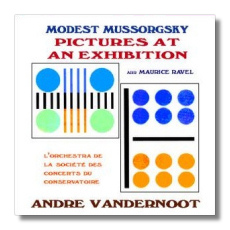 Pictures at an Exhibition (arr. Ravel)
L'Orchestre de la Société des Concerts du Conservatoire/André Vandernoot
ReDiscovery RD020 ADD 30:45
The major labels have cut back on reissuing their back catalog, and the recorded legacies of many classical musicians have been partly or completely neglected as a result. However, as remastering and CD-burning technology have become available to more people, a few dedicated individuals can reissue older recordings on their own. Citing the "homogenized" quality of modern classical musicianship, ReDiscovery claims an "educational" role in bringing treasured but unreissued recordings from the 60s and 70s back into circulation. The label obtains open-reel tapes (or, in the case of the Boult selections, very good quality LP pressings) of classical recordings with a certain cult cachet. Although these Vandernoot recordings have not been licensed from Command Classics, their original owners, this is legal, we are told, because of copyright law concerning classical recordings issued prior to 1972. These recordings have been digitally remastered and carefully transferred to CDRs. These CDRs may be purchased from the ReDiscovery website: www.rediscovery.us. The Berlioz CD costs $15, and that includes shipping and handling. (The Mussorgsky-Ravel, because its playing time is short, costs only $10). Production values are basic. These are blank-label CDRs; the catalog number has been handwritten near the disc's center hole. There's a cover page with artwork, derived (I think) from the original LP cover art. There is no booklet, per se, but there is an inlay card with track listings and a few brief paragraphs of notes concerning the performance and the recordings.
Command Classics made these recordings in Paris's Salle Wagram in the early 1960s. The production team was headed by Enoch Light, who was famous for his poppy "bachelor pad" sonic showcase albums at the dawn of the stereo era. (There's no gimmickry here, fortunately.) In its brief notes, ReDiscovery recounts the triple threat that Light encountered upon coming to Paris: first, uncooperative customs agents, then strikes in both transportation and utilities. Nevertheless, Light finally was able to record the Orchestre de la Société des Concerts du Conservatoire (also known as the Paris Conservatory Orchestra) in these Berlioz and Mussorgsky programs using 35mm film technology – a spacious-sounding medium which Mercury Living Presence also used to excellent effect. André Vandernoot (1929-1991) held conducting posts in his native country from the mid-1950s until his death. He is sometimes remembered as a Bach conductor, and also as pianist György Cziffra's and violinist Leonid Kogan's partner in several concerto recordings. Like Massimo Freccia (another unsung conductor who made a great audiophile Symphonie fantastique), Vandernoot finds plenty of excitement and atmosphere in these scores without lapsing into egomania. His "Scene in the Country" from the Berlioz is particularly noteworthy for its natural flow – this is a true pastoral, even if it is haunted by thoughts of "The Beloved." Some would argue that the PCO was the perfect orchestra for this repertoire. Critics used to complain, however, about the orchestra's oddly blended timbre and undisciplined execution. True, one couldn't confuse the slightly unrefined PCO with the Berlin Philharmonic, but I like the French orchestra's identification with the music, its excitability, and the distinctive, somewhat nasal brass sound. In an age in which orchestras tend to sound the same, it is wonderful to hear a group with its own personality. (The engineering, which is very up front, particularly in the Mussorgsky, emphasizes the orchestra's quirks, at times almost to the point of harshness.)
The Boult "fillers" on the Berlioz CD are more than that; they are further proof of Sir Adrian's amazing versatility, and of his ability to mold orchestral sound. These recordings originally were released by Westminster, and they sound as good as new.
Copyright © 2003, Raymond Tuttle