CD Review
Stokowski Conducts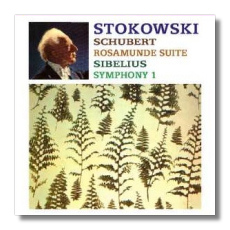 "His" Symphony Orchestra/Leopold Stokowski
ReDiscovery RD076 ADD monaural 60:12
"Stoky" recorded the Sibelius in 1950 with an ad hoc group of musicians in New York City; I assume the Schubert was recorded at about the same time and under similar conditions. The performances appeared on the RCA Victor label and, presumably because they are monaural, have not been reissued on CD until now.
Like Eugene Ormandy (his Philadelphia Orchestra successor), Stokowski met and admired Jean Sibelius. He recorded the First Symphony two times: the present version, and a 1976 version – exciting, but not always cleanly played – with the National Philharmonic. (The latter was reissued on CD by Sony a few years ago.) This is a typical Stokowski reading: emotional, hyper-expressive, perhaps not always faithful to the score, but ultimately a compelling, even thrilling interpretation. Stokowski, was not just a conductor, he was an ex post facto collaborator! Despite the fact that Stokowski drives it to hectic, almost panicky tempos in the last movement, the orchestra more than holds its own. The musicians play with the kind of intensity one rarely hears on recordings anymore, so ReDiscovery was right to bring this reading back from its relative obscurity.
The Schubert is just as intense as the Sibelius – which perhaps is not a good thing for Schubert, who was miles away from the Finnish giant (and not just geographically). Stokowski's reading is swoony, exaggerated, and three times more Romantic in style than it needs to be. Nevertheless, for all its wrong-headedness, this is enjoyable stuff, and well worth hearing as long as one realizes that it isn't quite Schubert!
Some ReDiscovery releases approach audiophile status. This one isn't quite as splendid. There's some surface noise, particularly in the Schubert, although the digital remastering has tamed it nicely. Also, there are a few unsteady moments in the Sibelius which probably date from fluctuating speeds in the original tape master. Even with today's technology, there's not much that could be done about that.
ReDiscovery releases are available over the Internet at www.rediscovery.us; their service is fast and courteous. The asking price for this CDR release is only $15, and that includes shipping and handling. The releases look endearingly homemade - no labels on the CDRs apart from a handwritten catalogue number near the spindle hole, and rudimentary (yet effective!) cover art and release notes.
Copyright © 2004, Raymond Tuttle