CD Review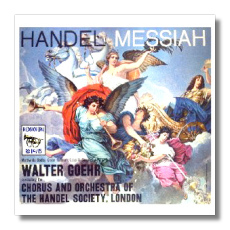 Messiah
Mattiwilda Dobbs, soprano
Grace Hoffman, mezzo-soprano
Léopold Simoneau, tenor
Heinz Rehfuss, bass-baritone
"Chorus and Orchestra of the Handel Society, London"/Walter Goehr
ReDiscovery RD114/115 ADD 2 CDs: 65:18, 70:08
Walter Goehr (1903-60) made many LPs for the Concert Hall Music Society. He recorded two Messiah s in the rescored and slightly cut Mozart edition from 1789 – one in monaural sound, and the one preserved here, which is in stereo (mostly – see below). Goehr was a multi-talented musician who was as comfortable in the early Baroque repertoire as he was in music of his own time. (In fact, he was a composer as well.) In this age of authenticity, Mozart's reworking of Handel's score probably is even more marginalized than it was in the 1950s. I would be interested to know how Goehr came to be a two-time supporter of it. Suffice it to say that Mozart's changes were no worse than what "tradition" has handed down to us over the past 150 years or so, and some of what he did to Handel's orchestration is very likeable on its own terms. (With Mozart, could one expect otherwise?)
Although Goehr's reading of this music is imposing and in many respects "traditional," this recording is not severe in tone, and it never bogs down. One might not catch its felicities the first time through, but with repeated listenings, one comes to appreciate what an affectionate and sensitive traversal of the score this is, and what care Goehr has taken, particularly with the chorus. With a large chorus, one risks losing the music's shadings and subtleties. Not here. In fact, there's a paradoxical intimacy to the contributions of the chorus on this recording. Their performance, and that of the orchestra too, might even be described as "comforting."
Dobbs, who was born in Atlanta in 1925, is not nearly as famous today as Leontyne Price or Marian Anderson, but she was another important African-American singer who had to contend with the "color bar" that existed even in the world of classical music. (Although Anderson preceded her on the stage of the Metropolitan Opera by one year, Dobbs was the first African-American singer to be offered a long-term contract by that company.) She was a lyric-coloratura soprano whose operatic roles included Gilda and Lakmé. On this recording, she sings her solos with a wonderful clarity and innocence. "I know that my redeemer liveth" is particularly beautiful. Grace (née Goldie!) Hoffman later recorded Messiah with Otto Klemperer. She too was born in 1925, but in Philadelphia. She specialized in the German repertoire, particularly Wagner and Richard Strauss. She does a fine job with her solos here, not just in "He was despised," but also in "O thou that tellest good tidings to Zion," which actually rejoices! Her voice has warmth and remains quintessentially feminine even in the lower part of its range.
Turning to the men, we come first to Léopold Simoneau (1916-2006), a Quebécois who was married to Pierrette Alarie. Simoneau's elegant tenor suited him particularly well to Mozart, as well as to the French repertoire. His French accent lends a slightly exotic air to his arias, but what really distinguishes his contribution to this recording is his supreme assurance in the florid writing, and his masculine yet never stentorian delivery. In some ways, he was the antithesis of the typical English oratorio singer, and that is not a bad thing! The bass solos are performed by the German-born Heinz Rehfuss (1917-1988). Rehfuss was a distinguished Lieder singer, and later, a pedagogue in Canada and the United States. In many Messiah recordings, the bass functions as the "heavy," but here, Rehfuss is caressing and gentle. Even in "Why do the nations," he sounds more disillusioned than angry. "The trumpet shall sound" is majestic rather than threatening. Again, his accent is pleasantly exotic.
The recording, with the exception of Simoneau's solos, is in stereo. (It is likely that they were recorded at earlier sessions.) The engineering, while a little cloudy, lacking in treble, and prone to discolor singers' high notes, nevertheless makes an impact.
This pair of CD-Rs comes with minimal notes and no texts, but the performance makes up for that. The cost is $25, which includes shipping. This very worthwhile Messiah, and other ReDiscovery titles, may be ordered from www.rediscovery.us.
Copyright © 2007, Raymond Tuttle