CD Review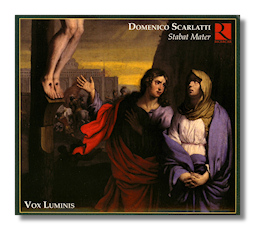 Stabat Mater
Stabat Mater
Te Deum
Salve Regina
Sonata K. 87
Sonata K. 417
Miserere
Vox Luminis:
Sarah Abrams, Helen Cassano, Sara Jäggi, Zsuzsi Tóth (sopranos)
Michaela Riener (mezzo soprano)
Paulin Bundgen, Jan Kullmann (countertenors)
Robert Buckland, João Sebastião (tenors)
Bertrand Delvaux, Lionel Meunier (bass)
Anne Nissinen, organ
Jan Cižmár, theorbo
Ricardo Rodriguez Miranda, bass viol
Ricercar RIC258
Domenico Scarlatti is best known for his huge number (at least 550) of solo harpsichord sonatas. Several recorded editions of that wonderful body of music exist; and they feature regularly in anthologies, as "fillers" and encores at recitals. But Scarlatti's choral works are far less well-known. There is a significant number of them: 15 operas; dozens of arias, duets, cantatas; oratorios and other sacred works. True, we usually think of Domenico Scarlatti's father, Alessandro, when we think of choral music. But Domenico's output is significant and worthy of close attention.
Domenico Scarlatti was a Neapolitan; trained (possibly by Alessandro) and immersed in the rich choral traditions of that city, he inherited a love of the mellifluous; after all, opera seria originated in Naples. Early musical experiences included those of the Papal court at Rome; a spell in Florence; as protegé to members of exiled aristocracies (the bulk of Scarlatti's life was spent in the service of the Spanish court – in Spain); and in the opera houses, churches and salons amongst such established luminary composers as Corelli, Handel and Scarlatti's father, Alessandro. From the end of 1713 until his departure for Portugal in 1719, Domenico was maestro di cappella at the Basilica Giulia and, although it's tempting (because convenient) to assign the composer's sacred choral music all to these six years, there's no evidence for doing so… not least because we know he continued his work in the area on arrival in Madrid. Tentative dating has nevertheless been attempted by the producers of this disk; it helps in setting what are very different musical styles
The longest and most substantial of the four choral pieces presented here, the Stabat Mater, does seem highly likely, however, to date from Scarlatti's Basilica Giulia period. Chiefly because of the unusual scoring. Rather than calling for a choir of ten voices, the score plainly requires ten distinct soloists who work together to create the most remarkable shifting sets of changing and contrasting sonorities, textures and effects. This highly personal and somewhat exposed feel is particularly appropriate to the taut emotional strength of the Stabat Mater. These singers and players are completely in accord with this and offer a thoughtful, suitably harrowing interpretation. To say it is full of atmosphere is nevertheless not to say it either cloys or tries to hide the simple and searing import and tone of the music with effect. The small instrumental complement adds to the sense of cradling, tenderness and humility which the words of several of the movements to emphasize. Those which are more upbeat and extrovert, almost, such as the "Inflammatus" [tr.16] are like flashes of sunlight through a still gray sky… the clouds are not absent, just in remission.
It seems likely that the Te Deum may have been written while Scarlatti was in Portugal. It was certainly performed in Lisbon at the end of 1721 according to newspaper reports. Here there is a double choir and there are polyphonic, responsorial effects between them while the continuo has a supporting role. Again the instrumentalists actually add immeasurably to the tone and texture of the Te Deumspecifically by a consistently subdued and rolling musical line. It's a short piece at six and a half minutes. This adds to its happy confluence of simplicity and tightness.
Written for only soprano, alto and continuo (the track listings for iTunes are wrong) the Salve Regina is sparer and more concentrated. If a date were hazarded, it would surely be for Scarlatti's earliest period, in Naples. It's a reflective, almost "moody" piece; less dark than downbeat, more consciously detached that laden with imprecations. Yet it verges on the lugubrious, though the singers are on top and energized all the time. As with the other three pieces, the members of Vox Luminis are expert not only at the meaning-packed articulation of the text and melody, but at conveying the grander architecture of Scarlatti's intentions. Their consistent treatment of tempi has something to do with this achievement. As does their familiarity and confidence with those aspects of the writing which move it forward.
The Miserere is another piece that we know formed part of the Basilica Giulia's repertoire. Packed with the austerity of the earlier Renaissance style and redolent of the piece by Allegri, Scarlatti's Miserere is like a contrapuntal cold bath. Again the singers of Vox Luminis project the alternating counterpoint and Gregorian chant from its very center. There are also two substantial sonatas played on the organ by Anne Nissinen. They have a Bachian feel and sound to them – both in structure and tonality; neither is certainly particularly Latin in sound. Each makes a striking contrast to the choral pieces, however gentle and "leisurely", almost, the Te Deum and Salve Regina in particular are.
Two aspects of this CD stand out: the variety of compositional styles. And the high standard of singing by Vox Luminis. Their approach is confident, somewhat understated… no Gabrieli-like grandeur; highly focused. Most of the pieces move a little faster than you might expect. They don't lack impact thereby, but they clearly do not rely on the sound stage for their color. Rather, as surely Scarlatti would have wanted, on the words and the marriage of words and song. There are reasons of historical interest making this a desirable buy. Set those aside and you still have a well-recorded and pleasingly-presented (an attractive if somewhat functional booklet) disk, the beauty and assuredness of particularly the singing on which makes it a safe recommendation if either the works of Domenico Scarlatti especially or Baroque sacred choral music more general interest you. The word "revelation" is not too strong to describe what will be of great satisfaction, stimulation and pleasure thanks almost entirely to the collectively unassuming style of Vox Luminis.
Copyright © 2008, Mark Sealey