SACD Review
Masterpieces in Miniature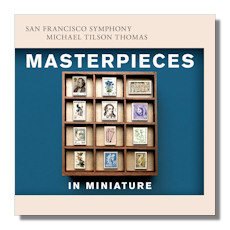 * Yuja Wang, piano
San Francisco Symphony Orchestra/Michael Tilson Thomas
SFS Media SFS0060 78:08 Hybrid Multichannel SACD
As Michael Tilson Thomas celebrates 20 years in San Francisco and 70 years of life, he and his colleagues have gifted us with this well-filled disc of fun. These are all encore-like pieces, and each is definitely a miniature. Whether they are masterpieces is entirely up to you, but I can't imagine anyone not appreciating that a major orchestra has taken the time to pay attention to works that are just enjoyable to hear, and short too. I can imagine this working well as study music, or working around the house, or yes, for children.
Yuja Wang tosses off the Scherzo from Litolff's Concerto symphonique with astonishing ease, and Tilson Thomas does his job in staying out of her way and letting her run amok. Sure, the San Francisco Symphony sounds wonderful, but you'd be foolish to think that this opening number is about the orchestra. It's not. Nice low strings and winds, though. From there, the program does focus on the San Francisco Symphony. It's amazing how much more I appreciate Blumine when it's not breaking up Mahler's Symphony #1. This discarded movement from the First can work in context, but it sounds far better as a stand alone piece. Tilson Thomas is a great Mahler conductor, though you don't have to be here. The orchestra sounds absolutely terrific, and clearly believes in this work. It's honestly not all that great, and you can understand why it was discarded, but it works as a miniature better than you'd think.
The Mahler flows into a gorgeous reading of the Pavane, which again works very well in a program such as this. The Debussy is worth it just for the hammer dulcimer part…no, really. Tilson Thomas is an excellent Debussy conductor, but this is about the dulcimer. The Schubert is aptly balletic, while the Ives is unique for being the only piece not arranged by the composer himself. One Henry Brant makes a strong case for the Concord Sonata as a symphonic work; this movement is very much like Ives. It's also somewhat out of place on the program. The Rachmaninoff is simply too fast, but just by a hair. A more relaxed tempo would allow us to better appreciate the glorious sounds on display.
The Dvořák is lovingly polished, if perhaps lacking in rustic charm. On the other hand, Tilson Thomas elevates the Sibelius to a higher place, with some ravishing low strings and real feeling for the waltz. It's a bigger, beefier sound than Blomstedt with the same orchestra, but it's so rich that I doubt you'll care. The Delius is a very pleasant surprise, and is the last thing you'd expect from this conductor, he of Mahler, Beethoven, and Stravinsky. It turns out to be one of the better items on the disc. The Grieg is lovely, while the Delibes closes the disc with a flourish and much applause. In sum, this isn't the most even collection, nor the greatest of its type, but it contains enough surprises to delight almost anyone. Many happy returns, Maestro.
Copyright © 2014, Brian Wigman