Related Links
Recommended Links

Site News
CD Review
Madame d' Amours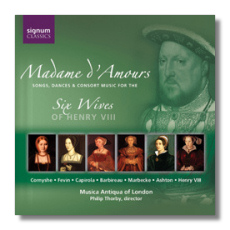 Songs, Dances and Consort Music
for the Six Queens of Henry VIII
Catherine of Aragon:
Francisco de la Torre (fl. 1483-1504): Danza Alta
William Cornyshe (d 1523): Whines lyre or breth
Matthieu de Gascongne (fl 1517-18): Nigra sum
Anonymous:
My Lady Wynkefields Rownde
Adew Ie companye
Anne Boleyn:
William Cornyshe: Blow thi Home Hunter
Antoine de Fevin (c1470-1511/12): Adiutorium nostrum
Anonymous:
My Lady Carey's Dompe
La Gamba
Blame not my Lute
Jane Seymour:
Vincenzo Capirola (1474-after 1548): Ricercar
Anonymous:
Gentil Prince
En vr y amoure
King Harry VIII Pavyn
Madame d'amours
Duke of Somersett's Dompe
Anne of Cleves:
Jacobus Barbireau (1455-1491): Een Vroulic Wesen
Anonymous:
Ainxi bon youre
La danse de Cleves
Catherine Howard:
Henry VIII (1491-1547):
Quam pulchra es
Time to Pass with Goodly Sport
Anonymous:
Prince Edwarde's Pavyn
The Kynges Marke
Adieu Madame et ma mastres
Catherine Parr:
John Merbecke (c1505-c1585): A Virgin & a Mother
Hugh Ashton (1485-1558): Ashton's Maske
Anonymous:
Pavyn of Albart
Galliard
Jennie Cassidy, voice
Musica Antiqua of London/Philip Thorby
Signum Classics SIGCD044 74:59
I found this one of the most satisfying of the year's early-early music offerings. It balances the rumbustious (not too many of those) with viol consort pieces and features the pure, vibrato-less soprano of Jennie Cassidy in many affecting songs.
There are things for everyone to learn from the scholarly and compendious notes by Philip Thorby. The multi-skills of the instrumentalists is a source of wonder and, again, the virtuosity is of a sort that does not seek to dazzle; cornetts and shawms are harder than they sound here.
I was tempted to compare the culture and musicianship of Henry VIII's court coexisting with his brutality - he was an accomplished instrumentalist, dancer and no mean composer - with those horrific, sentimental music-lovers who indulged themselves in the Nazi camps. One of Henry's unhappy wives, Catherine Howard, lost her head because of immorality with the court virginalist before her marriage to the King!
Signum is generally, as here, compendious in information provided and its booklets are a pleasure to handle. Texts and translations, of course, with details of every instrument and exactly who plays what on each track. The generous timing leaves you little spare from 1¼ hours! A winner.
Copyright © 2005, Peter Grahame Woolf