CD Review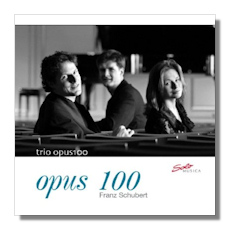 Piano Trio in E Flat Major, Op. 100 (D. 929)
Piano Sonata #13 in A Major, Op. 120 (D. 664)
Trio opus100
Solo Musica SM145
Schubert's E Flat Trio was conceived on a grand scale, both in its length (when all repeats are observed) and its expressive depth. In spirit and substance it would seem the kind of work Mahler would have loved. The big first movement (Allegro), with its stately opening and sense of grandeur, is ultimately restless and troubled in its energetic flow, though one could hear the music as perky and uplifting, if a little conflicted. The second movement (Andante con moto) features one of Schubert's most haunting melodies: somber in its sadness, it conveys a sense of loneliness, of loss. The alternate theme is consolatory, but does not relieve the gloom. The ensuing panel (Scherzando – Allegro moderato) is a country dance that clearly shifts away from the darkness. The finale (Allegro moderato), at nearly nineteen minutes, is another long-breathed creation, but here the brighter mood from the Scherzo remains, at least until the second movement main theme returns. Though its reappearances provoke tension, even a sense of chaos for a time, they ultimately fail to dispel the high spirits.
The performance of the Opus 100 players (Oliver Schnyder, piano; Marina Yakovleva, violin; and Claudius Herrmann, cello) is excellent: they are alert to every change in mood, to seemingly dozens of gradations in dynamics and to every technical demand. Their tempos are judiciously chosen and the music seems to flow with a naturalness of expression, especially in the outer movements. The sensitive rendering of the various guises of the second movement theme was simply mesmerizing. And they make the performance work well, not an easy challenge when you observe the repeats in the work, as they do. The Wiener Trio (with Rudolf Buchbinder on piano), in a performance from 1972, also offered a fine and much leaner (repeat-less) rendition on Telefunken.
Pianist Oliver Schnyder's performance of the A Major Sonata was also convincing. I can remember Sviatoslav Richter's EMI recording of the work: he took every first movement repeat, as I remember, and made the music sound so long-winded and repetitive in his attempt at faithfulness to the score. Alicia de Larrocha was more vital in this generally light work. In this case, choosing to pare down the music, as Schnyder does here, is wise. Schnyder's finale is particularly spirited and the first movement has that charm and lightness one would expect in a superior performance.
The sound reproduction in both works is vivid. Recommended.
Copyright © 2011, Robert Cummings