CD Review
Bernstein Century
The Martyrdom of Saint Sebastian
Fritz Weaver (Narrator)
Felicia Montealegre (The Saint)
Adele Addison, Virginia Babikian (sopranos)
Marlena Kleinman, Joanna Simon (mezzo-sopranos)
The Choral Art Society
New York Philharmonic Orchestra/Leonard Bernstein
Sony SMK60596 ADD 75:16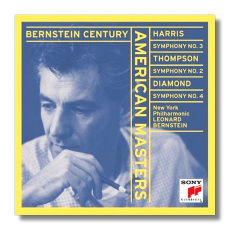 American Masters
New York Philharmonic Orchestra/Leonard Bernstein
Sony SMK60594 ADD 64:04

Dvořák & Smetana
Antonín Dvořák: Symphony #7 in D minor, Op. 70
The Bartered Bride - Overture and Three Dances
Má Vlast - The Moldau (Vltava)
New York Philharmonic Orchestra/Leonard Bernstein
Sony SMK60561 ADD 69:23

What Is Jazz?
Handy/Antonini: St. Louis Blues (Concerto Grosso)
Howard Brubeck: Dialogues for Jazz Combo and Orchestra
New York Philharmonic Orchestra/Leonard Bernstein
"Lewinsohn Stadium Symphony Orchestra"/Leonard Bernstein
Louis Armstrong, trumpet, with his Quintet
Dave Brubeck Quartet
Sony SMK60566 ADD 75:10

In the Beginning
The Second Hurricane
Martha Lipton, mezzo-soprano
Chorus Pro Musica
Soloists and Chorus of the High School of Music and Art, New York City
New York Philharmonic Orchestra/Leonard Bernstein
Sony SMK60560 ADD 62:54
Sony Classical is moving along with its Bernstein Century series – a fine way to honor the late conductor. However, about 75% of the material in it was reissued just a few years ago in The Royal Edition, accompanied by H.R.H. Prince Charles's artwork and implicit seal of approval. (I never got the connection.) The above titles, however, are new to CD, with the exception of some of the shorter pieces on the Dvořák CD. And, even though they were left out of the previous collection, there's nothing second-rate or also-ran about these recordings.
There's something sweetly risible about Debussy's last stage work. Musically, it suggests Parsifal à la française. Dramatically, it suggests an S&M party in a New York City loft.
Most Christians have heard the story of Sebastian, the to-die-for Roman archer who, much to everyone's chagrin, was shot full of his own arrows for rejecting his pagan gods and loving Christ. The text, by poet Gabriele d'Annunzio, flirts with the story's incipient homoeroticism and sadomasochism, although, as long as it is read in French, most listeners are none the wiser. In 1962, Bernstein "expanded and adapted" d'Annunzio's fever dream into an performing version in which the spoken text in done in English. That is what has been recorded here, and now no CD-buyer need fear misunderstanding a single tawdrily devout moment of The Martyrdom of Saint Sebastian.
Mrs. Bernstein declaims the words of the Saint in high Sarah Bernhardt style. Fritz Weaver, an actor probably best known for the film Demon Seed, is the fervid Narrator. The orchestra plays well, and Bernstein is naturally sensitive to the score's outré elements. At times, however, the singing is a little scrappy. In the case of the chorus, the problem is not one of commitment but of discipline; they too seem overheated by Sebastian's subject matter. (The most competitive recording, that conducted – and narrated – by Charles Munch, also lacks strong vocal performances.) For some reason, the spoken voices are pushed over to the right channel, as they were on the LP release.
It's not just the fact that I am an American that compels me to recommend the disc of symphonies by Harris, Thompson, and Diamond. I am convinced that Harris's Third and Thompson's Second are great works, the equal of – well, let's compare apples to oranges – Copland's Third Symphony. (I haven't lived with the Diamond long enough to put it in the same category, but I won't say that it doesn't belong there.) Furthermore, these works have not been graced with abundant recordings; in fact, it appears that Harris's Third would be completely out of the catalogue, were it not for this release. And that's a crime; while one might debate as to whether it's a symphony or not (it's in one movement and barely 17 minutes long, but so what?), it is packed with attractive material, from the wide open spaces of the opening pages to the urban drive that closes the work. Thompson's Second could not have been written by a citizen of any other country. Its eloquence comes not from frilly excess or psychodrama but from Yankee plain-speaking and modesty, and its melodies are memorable. There's nothing screamingly innovative going on here – the composer wrote it while finishing up his Doctorate at the Eastman School of Music – but it's a healthy specimen nevertheless. Its conservative joys are clearly relished by Bernstein, whose version is the best I know. And as for the Diamond, it too is symphony distinguished more for its heart and craftsmanship than for its creativity. According to Diamond, the symphony is based on the interrelationship between mortality and sleep. The eternal sleep of the first movement (pre-birth) is succeeded by the second's alternation between sleep and waking (life), and the eternal waking of the third (death, and whatever follows). You might not buy into the philosophy, but you must buy into Diamond's music, at times weighty and at other times ethereal.
Given the dynamism of his two "New World" recordings, it is surprising how relaxed and low-key Bernstein's Dvořák Seventh is. He taped it in 1963, and I believe that this was his only recording of the work. While his interpretation is mellow, only a few listeners will find it slack. (If they grew up on Szell, however, they almost certainly will.) Bernstein also makes less of the symphony's nationalistic elements than other conductors do. To paraphrase a commercial, this is a Dvořák Seventh to have when you're having more than one; this uncharacteristic reading will complement more traditional ones. A listener could hardly tell that the same forces recorded the overture to Smetana's The Bartered Bride on the very same day, but such is the case. It (and the three dances, recorded in 1965) receive bustling, accented readings here. Again, the performances are more cosmopolitan than Czech in spirit. A lovely Moldau closes the disc.
So, what is jazz, anyway? It's probably not the square arrangement for orchestra and combo of W. C. Handy's St. Louis Blues. After it is over, even Bernstein admits, giving a nod to soloist Louis Armstrong, "we are only doing a blown-up imitation of what he does." He can say that again! This recording is worth hearing, though, for the way that Satchmo pronounces the conductor's name – something like "Boinsteen." Harold Brubeck's Dialogues is more tasty; in this work, the orchestra plays from a written-out score while the Dave Brubeck Quartet improvises on the same material. (In case you were wondering, Dave is Harold's kid brother.) I wonder how much improvisation actually took place when this studio recording was made in 1960; this is polished stuff. More than half of this CD, however, is Bernstein's lecture on the nature of jazz. He was an excellent educator, and he manages to convey both the letter and the spirit of the genre – or, more accurately, class of genres – without condescension or egg-headedness. Along the way, he uses recorded examples from the Columbia catalog, and a few of his own on the piano. He even sings an African song at one point. Quite the multi-talented man, that Leonard Bernstein. Television documentaries were the birthplace of "What is Jazz?" (Omnibus) and the St. Louis Blues arrangement (Satchmo the Great); the sound is good mono. The Brubeck was recorded in stereo.
Another mono recording, one that hasn't been released until now, is that of Copland's In the Beginning. This is an attractive a cappella work with texts based on the book of Genesis, and it's hard to say why the present recording sat in the can so long. Perhaps it's because the sound is a little muddy, even by 1953 standards. I can't hear any gross deficiencies in the performance, and Lipton is a good singer with clear diction. Furthermore, this is a rare opportunity to hear Bernstein in the role of a choral conductor. The Second Hurricane dates from the Depression era; its first director was Orson Welles. It's a school opera, and in that way it reminds me of Britten's Let's Make an Opera! and Noye's Fludde. It's mostly on that level, musically speaking. The story concerns six high school heroes, their worried parents, and their friends. The heroes have been sent to a hurricane-stricken area to provide disaster relief. (When was FEMA founded?) On the way, their plane develops difficulties, and they are stranded on a hill while the pilot flies off in search of mechanical help. Frustrated and scared, they begin to quarrel, and it's only the threat of a second hurricane that pulls them together. Eventually, they are rescued, and there is the requisite happy ending. Bernstein is the avuncular narrator, and he keeps the action flowing. (Together, the two acts last barely more than 45 minutes.) The young people of the High School of Music and Art carry out their solo and ensemble duties with maturity. There are no texts, but you'll be able to understand the words anyway. The 1960-vintage sound is excellent.
Copyright © 1999, Raymond Tuttle