Related Links
Recommended Links

Site News
CD Review
Bernstein Century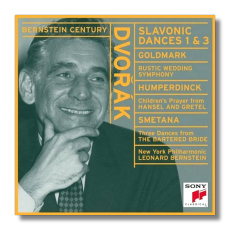 New York Philharmonic Orchestra/Leonard Bernstein
Sony Classical SMK61836 ADD 68:17
Another entry in Sony Classical's "Bernstein Century" series, this disc includes the first appearance on CD of the Goldmark recording, which Bernstein made in 1968. Relatively few conductors have recorded the Rustic Wedding Symphony – Beecham favored it, and there is a fine digital recording with Yondani Butt – which makes it even more odd that Bernstein had such an obvious affinity for it, because he and Columbia Records were not known for recording relatively obscure 19th-century repertoire.
Bernstein and the New York Philharmonic are completely successful with this Romantic gem. As expected, Bernstein takes a showier approach to the music than some other conductors do, but the conducting never deviates from affectionate respect into something more hard-driven. I suspect that Bernstein was fascinated by the symphony's unusual form – a case could be made for not calling it a symphony at all. The opening movement ("Wedding March") is a charming set of variations; in it, you can hear everything from the bride's demure hesitation to the preening pride of the wedding party. The second ("Bridal Song") and third ("Serenade") movements function as brief, contrasting intermezzos, and the fourth movement ("In the Garden") is an extended scene whose passionate tones suggest that the happy couple could hardly wait to consummate their marriage. The finale ("Dance") incorporates a learned fugue into the peasants' festivities, and a reference to "In the Garden" suggests that the newlyweds are still consummating their marriage, even as the symphony comes to an end. Bernstein conducts this music as if it represented an afternoon of joy – which in fact it is.
The two Dvořák dances both open and headline the CD, which is a bit absurd, because together they last for only ten minutes. The disc closes with the three expected dances from Smetana's The Bartered Bride: "Polka," "Furiant," and "Dance of the Comedians." Bernstein brings them off with appropriate gusto, although the impression that is left behind is more brilliantly international than specifically "Slavonic." One probably needs to turn to a Czech conduct to get the fullest effect. The brief Hansel and Gretel excerpt is unusual in this company – I don't get the connection to the other music on this CD. No matter: Bernstein treats it graciously, and the New York Philharmonic likes its sweetness.
The digital remasterings are kind to the source material, and the sound throughout this CD is well-balanced if not particularly spectacular. Tim Page's generic annotations don't add much that is of interest.
Copyright © 2000, Raymond Tuttle