CD Review
Handel / Scarlatti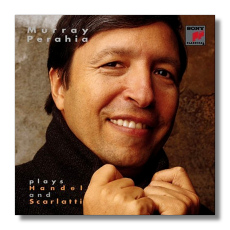 Keyboard Music
Suite #5 in E Major, HWV 430
Chaconne in G Major, HWV 435
Suite #3 in D minor, HWV 428
Suite #2 in F Major, HWV 427
Sonata in D Major, K. 491
Sonata in B minor, K. 27
Sonata in C Sharp minor, K. 247
Sonata in D Major, K. 29
Sonata in A Major, K. 537
Sonata in E Major, K. 206
Sonata in A Major, K. 212
Murray Perahia, piano
Recorded in Neumarkt (Germany) & Vienna, in 1996
Produced by Andreas Neubronner
Engineered by Pauline Heister
Sony Classical SK62785 DDD 68:59
With this excellent release, Murray Perahia extends his recorded repertoire into the Baroque, exhibiting his usual thoughtfulness and sensitivity.
These are all more or less familiar works by now, having been recorded by the likes of Richter, Gould, Jarrett, Gilbert, and others. The Handel Suites have perhaps not quite the sophistication of the French and English Suites of J.S. Bach, but these charming essays are certainly worthy of repeated attention and do allow a wide range of interpretations.
Perahia has a cultivated and elegant tone, and generally takes a relaxed approach to the material, with an occasional tendency to rush at the codas. His interpretations emphasise the melodic over the rhythmic, and his fine technique seems at times to make the rough places smooth. Richter has a very different view of these pieces and brings out a rough and craggy side of these works which is not hinted at here.
The second half of the program consists of seven sonatas by Scarlatti. It begins with one of the best known of the 550 or so in Kirkpatrick's catalog. Kk. 491 is nicely played, with a good sense of the contrasts and lines.
A less familiar minor-key sonata, Kk. 27, is for me the high point of the recital. It is played with a lovely legato, subtle shading and measured dynamics. Perahia uses decrescendo to great effect here. The harmonic complexity of this piece seems to foreshadow Beethoven. This is one of the most subtle and interesting of Scarlatti's works.
Kk. 29 is given a very lively reading, even a little rushed, and could be presented with more contrast between the sections. In Kk. 206, Perahia employs a gentle, singing tone to good effect.
The intelligent sequence in which these sonatas are presented enhances the pleasure of listening. Overall this is a brilliant and very enjoyable foray into the Baroque from one of the masters. Highly recommended.
Copyright © 1997, Paul Geffen