CD Review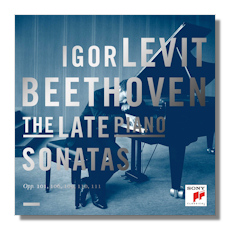 The Late Piano Sonatas
Piano Sonata #28 in A Major, Op. 101
Piano Sonata #29 in B Flat Major "Hammerklavier", Op. 106
Piano Sonata #30 in E Major, Op. 109
Piano Sonata #31 in A Flat Major, Op. 110
Piano Sonata #32 in C minor, Op. 111
Igor Levit, piano
Sony Classical 8883-70387-2 2CDs 129m
Russian-born, German-based pianist Igor Levit (b. 1987) won first prize at the International Piano Academy Competition in Hamamatsu, Japan in 2004 and won prizes at several other major competitions, including second prize at the 2005 Artur Rubinstein Competition. He has also served as a BBC New Generation Artist (2011-13) but, impressive as his resume may be, nothing in it prepares one for the exceptional pianism documented on this 2-disc set of Beethoven's last five piano sonatas.
It's not so much that Levit finds something totally new to say in his renditions of these familiar works – who does anymore? – but he does manage to convey both a freshness of approach and seasoned mastery in his interpretations that suggest he's already entered hallowed ground, an artist to be considered in the company of past Beethoven masters like Brendel, Barenboim, Buchbinder, Ashkenazy, Schnabel and a few others. Actually, Levit is perhaps closest in style to Brendel. That said, I think Levit is a little less poker-faced than Brendel often is.
Levit catches the sense of serenity and joy in #28, overall offering one of the more masterful versions of this work of the dozen or more that I know of. In the challenging Hammerklavier Levit is perhaps even more persuasive. His tempos are fast, though not quite approaching those of the fleet Wilhelm Kempff. Levit gives the music a greater sense of thrust than most pianists and in the crucial lengthy Adagio, he never lets the music drag or sound overly ponderous, a pitfall some pianists fail to avoid. This may well be one of the finest accounts of the Hammerklavier put on record. It's that outstanding.
Levit mixes a subtle flowing lightness with a thoughtful probing manner in the first movement of #30, and then rightly imparts a rugged muscularity to the brief but busy second movement. His finale opens with a lovely though solemn statement of the main theme and then goes on to offer deftly conceived renditions of the six variations. Levit's account of #31 features a joyous but ever so subtly nuanced first movement and a brilliant and utterly glorious rendition of the finale's fugue.
In the first movement of #32 Levit handles Beethoven's tempo gear shifts with total naturalness: following the first movement introductory passage, for example, Levit plays the Allegro con brio theme with a perfect sense for the elasticity Beethoven built into the score, particularly the poco ritenente slowdown that comes in those mysterious descending notes near the close. He builds the finale with a view toward its overall architecture, grasping that temporary effect is generally to be avoided.
As suggested above, Levit is subtle and sensitive throughout these performances, having the insight and instincts of a pianist who has played and studied the Beethoven sonatas for decades. He needs to show us little more in this repertory, so perhaps now he will turn to Chopin, Schumann, Brahms, Rachmaninov or Prokofiev, assuming those composers are in his repertory. How can such a young pianist sound so persuasive, so mature? I can't say, but I will predict that he is only at the beginning of a major and very busy career. Sony's sound reproduction is excellent. Highly recommended!
Copyright © 2014, Robert Cummings