CD Review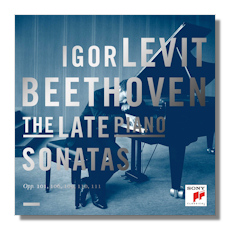 The Late Piano Sonatas
Piano Sonata #28 in A Major, Op. 101
Piano Sonata #29 in B Flat Major "Hammerklavier", Op. 106
Piano Sonata #30 in E Major, Op. 109
Piano Sonata #31 in A Flat Major, Op. 110
Piano Sonata #32 in C minor, Op. 111
Igor Levit, piano
Sony Classical 8883-70387-2 2CDs 129m
Beethoven wrote these final sonatas between 1816 and 1822 and all except #31 have dedications.
The dedicatee of Sonata #28 was Baroness Dorothea von Ertmann, one of Beethoven's favorite pianists. About her, a contemporary said that not only did she combine "a lofty noble manner and a beautiful face full of deep feeling," but he had "never seen such power and innermost tenderness combined even in the greatest virtuosi." In his recent biography of Beethoven, Jan Swafford recounts how, after she had lost a child, Beethoven invited her over and said, "now we will converse in music," and after he improvised for an hour, she reported, "he said everything to me…and finally gave me consolation."
There is a reflection of this in Beethoven's tempo indications for the four movements, which include such terms as "mit der innigsten Empfindung" (with profound or heartfelt –even intimate – feeling) for the first movement; sehnsuchtvoll (yearningly) con affetto (with feeling, or with love) for the third movement. The second movement is a march and the fourth is "with determination." Levit plays 1 and 3 gently and tenderly, and 2 and 4 with strength and vigor.
For its power, profound expressiveness, and even length (in some performances, notably Barenboim's) the Hammerklavier Sonata (dedicated to Archduke Rudolph, as is #32) ranks with the Eroica as one of Beethoven's toweringly great works. For the composer and conductor Felix Weingartner, the Hammerklavier, alone among Beethoven's piano compositions, cried out for forces beyond the piano, so in the late 1920's he orchestrated, performed and recorded an orchestral transcription, with the same instrumentation as the Ninth Symphony. That is the version I grew up with and which in recent years I have made more than one unsuccessful effort to interest conductors to re-introduce to the world, in the hope of hearing sound that is not eighty years old. Weingartner's score and parts are available from Beethoven's own publisher, Breitkopf und Härtel, still in business after all this time. Naxos even reissued the Weingartner recording at one point, without getting anyone else to play it. Recently I spoke to a representative from Breitkopf und Härtel, and he had no explanation either. So I have had to seek satisfaction in the sonata as Beethoven published it, and I have half a dozen versions by different pianists.
For modern pianists one of the great difficulties is deciding whether to accept the metronome tempos which Beethoven wrote down. For a long time the tempo indicated for the outset of the first movement particularly was considered to fast to be playable in a way which can be considered musical. Artur Schnabel was, I believe the first to accept them, and there are many who consider Schnabel's Beethoven performances to be the best. Even Weingartner took a somewhat more relaxed pace. So did Rudolf Serkin, whose recorded performance of the first movement I personally consider the most satisfying. Levit's is more like Schnabel's, as was the pace of Beveridge Webster, a student of Schnabel's. Clearly I cannot fault Levit for following Beethoven's instructions, however!
The second movement of the Hanmmerklavier is brief, but is followed by two tremendous movements. The third is marked Adagio sostenuto. Appassionato e con molto sentimento. It is both lengthy – 17 minutes here and nearly 22 minutes in Barenboim's recorded version – and heartbreaking. As I hear it Beethoven poured his heart out in this movement. A listener suffering from unrequited love might bawl his eyes out. The choice of tempo is tremendously important here. Too slow or too fast and the expressivenss is lost or spoiled. (The same is true of the adagio in the Ninth Symphony.) Levit gets the pace exactly right, to capture both the anguish and the sense of acceptance which can also be heard in this movement. I rate this version above all the piano performances of it I have heard.
The final movement, Largo – Allegro risoluto, contains a grand fugue, a baroque form which Beethoven used in his late period, notably also to begin his C# Minor String Quartet. Levit does very well in this movement also.
Sonata 30 is dedicated to Maximiliane Brentano, the mother of Bettina Brentano. It is in three movements, the first is fast, and under four minutes duration; the second is very fast and even shorter – two-and-one-quarter minutes. The final movement, a twelve and one-half minute set of six variations, is songful, with both German and Italian designations: Gesangvoll, mit innigster Empfindung (compare #28, first movement) and Andante molto cantabile ed espressivo. Not all of the variations fit this description; at least one of he variations is louder and more vigorous than the beginning and ending, but Levit's phrasing and attacks are crystal clear throughout.
Sonata 31, the only one of these without a dedication, is the one, among all Beethoven's sonatas, to which I have been the most attached over my whole life, thanks in great part to the no longer available performance of Robert Casedesus (whose performances of Ravel, Schumann and D'Indy have also overwhelmed me). Having bonded completely to that interpretation, I am thus no doubt not the best person to judge Levit's performance; in fact, when first hearing it, I hardly recognized some of it as the same piece.
I have no reservations about the strong performance of the final sonata. In only two movements. the first, Maestoso – Allegro con brio ed appassionato, is as powerful as the designation indicates and is played accordingly. The second, Arietta. Adagio molto semplice e cantabile is twice as long, and much gentler, except for a great surge of dynamics halfway, before becoming quiet again. As always, Levit's articulation is very clear and precise.
Highly recommended.
Copyright © 2014, R. James Tobin