CD Review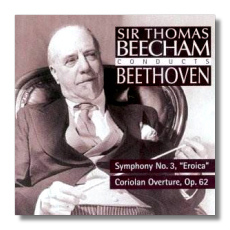 A Tale of Two Heroes
Symphony #3 "Eroica" (Aug 20 & 21, 1951 and Aug 13, 1952)
Coriolan Overture (Dec 1953)
The Royal Philharmonic Orchestra/Thomas Beecham
Sony 89887

Symphony #3 "Eroica" (1936)
Symphony #4 (1933) *
Vienna Philharmonic Orchestra/Felix Weingartner
* London Philharmonic Orchestra/Felix Weingartner
Naxos 8.110956
Sir Thomas Beecham was one of the greatest conductors of the 20th Century. His Haydn and Mozart are unsurpassed. This "Eroica" however, was a distinct disappointment for me. I spent a lot of time trying to put my finger on just exactly what is wrong because every time I listened I was simply not involved in the music and this is one of my favorite symphonies. I think the problem is that the whole thing has a feeling about it that is too "stiff upper lip". (That phrase is an American one by the way.) The first movement is not "eroic" enough, it is as if the hero must make sure his emotions are kept in check. The second does not have the gravitas needed to convey the sense of a funeral march. The last two movements are better but that is not enough. There is some lovely playing, particularly from the woodwinds, but the horns, timpani and bass line are too recessed to have the necessary impact. Looking at the disparate recording dates I have to wonder if there was some kind of dysfunction going on. Apparently this disc is only available in Europe even though it is on Sony.
It takes only a few minutes into the Weingartner recording to hear one of the things wrong with Beecham's interpretation; it doesn't swing, there is no pulse. Pulse is as important in music as in life. Beecham's beat is foursquare, the hero may not be brain dead but there is no pulse. This may seem unduly harsh, but that is the immediate impression I get when listening to the two recordings. The Vienna strings sing, the brass has a burnished sound the bass is firm (at times I thought I heard tubas reinforcing the bass, but I wouldn't swear to that). Weingartner provides one of the best interpretations I have heard and I have heard many.
Every time I hear Beethoven's 4th Symphony I wonder why I don't listen to it more often. The opening has the feel of "suspended motion" * anticipation carries you along like a mystery novel. What is happening? Where is this going? It is unlike anything before it. Then the whole thing erupts like the green of spring. Listening to Weingartner makes me want to go and get about another four recordings so that I can better understand this music. It is as infectious as my daughter Dylan's laughter. The only other recording I have of this piece, by Bruno Walter, no slouch, is not nearly as involving, doesn't have the pulse. Ward Marston, who produced the recording, takes pains to make sure you know that the sound in the 4th is not as good as that in the "Eroica". There is some truth to this but the sound is very good despite what Ward says about his work.
I think I need to listen to more of Weingartner. My only previous experience is his recording of the 9th. Next I need to check out his 5th and "Pastoral", also on Naxos. We owe them a lot for what they have brought us, both in content and quality.
* I have cited Michael Steinberg from his book, The Symphony, several times in other articles and strongly recommend it to you.
Copyright © 2003, Robert Stumpf II