Related Links
Recommended Links

Site News
CD Review
Thomas Beecham Conducts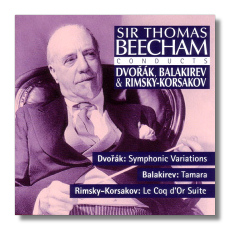 Dvořák, Balakirev & Rimsky-Korsakov
The Royal Philharmonic Orchestra/Thomas Beecham
Sony SMK91171 66m ADD
Sir Thomas was extremely fond of the Slav repertoire and he brought his own particular flair and panache to the proceedings. These are three of the works which he championed regularly and show his knack of turning orchestral colour into something quite noble and appealing.
Dvořák's Symphonic Variations fairly leap out of their pages and if the performance does not contain the uninhibited abandon and panache of the Kertész version (Decca), it still is one of the best available. The 1953 recording is quite vivid and the RPO have a ball in this wonderful piece of music.
'Tamara' was another of those works which Beecham loved to bits as Graham Melville Mason tells us in his excellent notes. This is another fine version with all the colour and imagery one would expect from the conductor. Here, one recalls Beecham's inimitable way with the Balakirev 1st Symphony and there are similar traits of shaping and direction. This is a performance to be treasured from first note to last.
I was already familiar with Beecham's interpretation of the 'Golden Cockerel' Suite as a liver version of similar vintage is available on BBC Legends coupled with the Balakirev First. This CBS version is better recorded but lacks the unabashed excitement of the concert although that is really finding the proverbial needle in the haystack. You only need to listen to the opening trumpet fanfare to be convinced that this is truly vintage Beecham!
Copyright © 2004, Gerald Fenech