CD Review
Concertos for Violin & Orchestra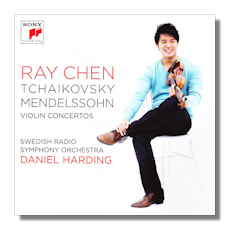 Ray Chen, violin
Swedish Radio Symphony Orchestra/Daniel Harding
Sony 8869-798410-2 63:53
Summary for the Busy Executive: Huzzah!
I first heard Ray Chen on an all-Stravinsky disc of music for violin and piano. I perked up right away: gorgeous intonation, unbelievable double- and triple-stops, no smears, and an aristocratic approach to that music. I think he surpassed Perlman's deservedly legendary EMI recording of much of the same material. And, by the way, Perlman was Stravinsky's favorite violinist. You can get Chen's Stravinsky from Amazon UK. Here, Chen has released only two albums, both from Sony. The first I haven't heard, mainly because I didn't like the repertoire, which included the Franck sonata, one of my bêtes noirs. On the present disc, Chen plays the concerti that won him the Menuhin and the Queen Elizabeth Competitions.
Born in Taiwan and raised in Australia, Chen attended Philadelphia's Curtis Institute, where he studied with Aaron Rosand. You can hear bits of his teacher in his musical personality – particularly a measured, patrician musical sensibility.
I suppose when most people think of violin concerti, they immediately think of Tchaikovsky's, the epitome of virtuosity and Romantic fire. Mendelssohn's has become the initial concerto of choice for prodigies, although I prefer it with adults. Of course, you have literally hundreds of recordings to choose from in both works. I have favored the Francescatti/Szell Mendelssohn and the Friedman/Ozawa Tchaikovsky, but I certainly recognize other wonderful performances out there – the Morini/Horenstein and the Morini/Rodzinski Tchaikovskys, for example. Then there's Perlman, Bell, Heifetz, Hahn, Haendel, Rabin, Szeryng, and so on. With over 200 choices for each concerto, you're bound to find something you like.
What sets Chen's accounts apart? All the technical nifties, of course, but also a beautiful line, one that seems to breathe, like a singer. It's not emotionally go-for-broke, and thus the Mendelssohn seems to suit him better. Indeed, the Mendelssohn, for once, seems more deeply mined than the Tchaikovsky. However, to me the really outstanding quality of the performances lies in the fit of soloist and orchestra. They seem alert and alive to each other. If you're looking for a spotlight-on-the-star performance, look elsewhere. Harding and his Swedes take nothing for granted in either score. They play as if the music still matters, rather than their umpteenth performance of either.
The recording aims at a "natural" acoustic and balance. Unlike many old concerto discs from Columbia and RCA, this one doesn't thrust the soloist right beside your ear.
One complaint. The liner notes are pure fan gush. We learn that Chen likes to chow down and work it off at the gym. He likes sushi and noodles. Obviously, Sony wants a Lang Lang of the violin, and in this, Chen may conspire with the label. In doing so, however, he and they sin against his great talent. When he's no longer young and cute, what then of his career? Besides, we need at most only one Lang Lang.
Copyright © 2012, Steve Schwartz.