Related Links
Search Amazon
Recommended Links

Site News
CD Review
Concertos for Violin & Orchestra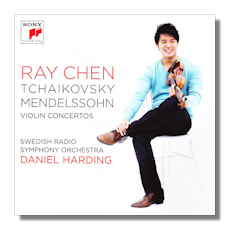 Ray Chen, violin
Swedish Radio Symphony Orchestra/Daniel Harding
Sony 8869-798410-2 63:53
Ray Chen is now well established on his road to stardom as one of the greatest violinists of all time and this disc shows him at the peak of his powers accordingly. In the Tchaikovsky he demonstrates an uncanny feeling for line and melody with the music really coming across as rather beautiful in the mould of a Szeryng or Christian Ferras in his wonderful DG recording with Karajan.
The Mendelssohn is also excellent on all counts and shows that the concerto is perhaps one of the most taken for granted in the repertoire. Chen shines throughout and he also receives excellent support from Harding and the Swedish Radio Symphony Orchestra.
2011 has been a significant year for the 22-year-old Chen. The recital tour with the Virtuoso repertoire thrilled audiences in Tokyo, Hamburg, Berlin, Munich, Zürich, and Dresden. His debuts at the Verbier and Dresden Festivals led to immediate re-engagements for 2012, and audiences at Ravinia and Schleswig-Holstein, where he performed with the Munich Philharmonic, gave him standing ovations. In 2010 at the Asian Games Festival in Guangzhou he appeared at a sold-out event with the Seoul Philharmonic and Myung-Whun Chung. Future engagements include performances with the Montreal Symphony Orchestra, Cincinnati Symphony Orchestra, Hong Kong Philharmonic Orchestra, Israel Philharmonic, Gewandhaus Orchestra, and the National Symphony Orchestra of Taiwan.
Ray Chen was born in Taiwan and grew up in Australia. At the age of eight he was invited to play solo with the Queensland Philharmonic Orchestra, and in 1998 performed at the opening celebration concert of the Winter Olympics in Nagano, Japan. At the age of 15 he was accepted for studies with Aaron Rosand at the Curtis Institute of Music. Ray Chen plays the 1721 "Macmillan" Stradivarius, which was part of his award as winner of the 2008–09 Young Concert Artists International Auditions in New York.
Copyright © 2012 by Gerald Fenech.