Related Links
Recommended Links

Site News
CD Review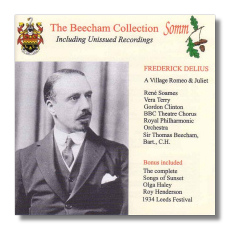 A Village Roméo & Juliet
Songs of Sunset *
Fabian Smith
Frederick Sharp
Sybil Hambleton
Marion Davies
René Soames
Vera Terry
Gordon Clinton
* Olga Haley, soprano
* Roy Henderson, baritone
BBC Theatre Chorus
* London Select Choir
Royal Philharmonic Orchestra/Thomas Beecham
* London Philharmonic Orchestra/Thomas Beecham
SOMM Beecham 12-2 143m ADD
Somm is to be congratulated for resurrecting this long forgotten radio broadcast of Delius' 'Village Roméo and Juliet'. Whilst markedly inferior on sonic grounds when compared to the EMI original, one cannot deny that this broadcast has an intimate effect that is not present in the more famous studio version. Vera Terry and René Soames are quite marvellous in their roles as Sali and Vreli whilst the contribution of the chorus and orchestra is impeccable. The vital elements of the score are uncannily interspersed together with remarkable alacrity throughout with a trenchant 'Walk' and a tearfully captivating finale that is surely unsurpassable on all counts.
The bonus on this set is another performance that should not be missed, the original 1934 Songs of Sunset with Olga Haley and the inimitable Roy Henderson, surely one of the classics from Beecham's live recordings.
The issue is one again superbly annotated by Graham Melville Mason who is enviable in his astute and thorough knowledge of Delius and the Beecham connection. This is a prized reissue that definitely warrants serious investigation.
Copyright © 2002, Gerald Fenech