DVD Review
Günter Wand Conducts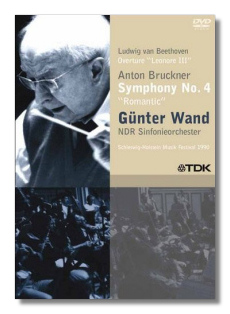 NDR Symphony Orchestra/Günter Wand
TDK DVD DVUS-COWAND5 87min LPCM Stereo Full Screen
This was the opening concert at the 1990 Schleswig-Holstein Music Festival in Lübeck -the date was June 24. A Bruckner Ninth, coupled with Schubert's "Unfinished," also released by TDK and reviewed on this site, was recorded at the opening of the 2001 Festival. It is no surprise that this recording from more than a decade earlier presents a much less frail-looking conductor, and one who is considerably more demonstrative on the podium. (In my earlier review, I described Wand's conducting style in 2001 as "no nonsense," and one assumes that his gestures became more pared down as he aged simply out of necessity.) Wand was one of the great Bruckner conductors from the last decades of the century just past. During the CD era, record companies recorded studio versions of Wand's Bruckner, and then, whenever possible, live recordings. Again, if one wants to hear Wand conducting Bruckner's Fourth, there are several choices on CD beyond the DVD reviewed here. Wand's many admirers will want the opportunity both to see and to hear him, however.
The 2001 concert was recorded in Lübeck's Musik- und Kongresshalle. This one was recorded in the Dom – the city's historic cathedral. Unsurprisingly, a Brucknerian fortissimo can echo through the Dom for almost ten seconds. This is impressive, but it is not necessarily helpful, musically. The sound is muddied by the exceedingly lively acoustics. Also, the dynamic range feels narrowed – true pianos and pianissimos are hard to come by, although I am unsure whether this is due to the acoustics, the engineering, or to Wand himself. (I doubt the latter, however.) Also, the violins sound washed out, and there are some odd balances. None of this is disastrous, but I feel it is possible to make a stronger case for Wand's Bruckner than this. Compared to Wand's fine studio recording from 1976 with the Cologne Radio Symphony Orchestra, this one is some minutes slower, but oddly, it feels hurried at times – another side-effect of performing this work in a cathedral? One thing is for sure: the NDR Symphony Orchestra plays fearlessly, particularly the brass. The mishaps are minor and few between, and should bother no one. The Beethoven overture, which opens the concert, is played eloquently and without hysteria. It actually is more impressive than the Bruckner, when all is said and done.
The camera-work is mostly effective, although occasional long shots of the orchestra, apparently from the back of the Dom, tell viewers very little. A full-screen format is used, and LPCM stereo. There is no bonus material. Wand's most fervent admirers will want this, of course, but it is not nearly as impressive as the DVD reviewed earlier.
Copyright © 2006, Raymond Tuttle