DVD Review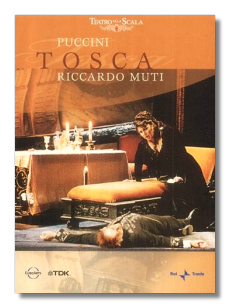 Tosca
Maria Guleghina (Tosca)
Salvatore Licitra (Cavaradossi)
Leo Nucci (Scarpia)
Alfredo Mariotti (Il Sagrestano)
Giovanni Battista Parodi (Angelotti)
Orchestra & Chorus of La Scala, Milan/Riccardo Muti
TDK DVD 115008-9 DVUS-OPTUS 121m Anamorphic Widescreen PAL Dolby Digital DTS
Sad to say, the most notable thing about this production, taped live in Milan in March 2000, is the set design, and it is notable for the wrong reason. This is Tosca by way of The Cabinet of Dr. Caligari. The sets dwarf the singers, and they are distorted into impossible angles as if viewed through a funhouse mirror. The design reaches its nadir in Act Three, where the Castel Sant'Angelo seems to have been reduced to a pile of rubble; it looks more like Act Three of Carmen! Perhaps director Luca Ronconi and set designers Margherita Palli and Lorenza Cantini were trying to create a visual metaphor for the Scarpia's corrupt reign of terror over Rome, but I don't buy it.
Vocally, this Tosca is worthy of La Scala, yet I still have reservations about the three main roles. Guleghina's voice is in good shape, and her high notes are strong, but her singing is too monochromatic to suit Puccini's changeable heroine. She floats a pretty high note here and there, whether or not it makes dramatic sense to do so. Overall, it's not an Italianate sound, and she never seems to get into the role (which she nevertheless has been singing for a long time). Licitra remains a tenor of promise. I fear, however, for the survival of his voice, which is not always well supported, and migrations from pitch are the result. He is quite a sleepy Cavaradossi in Act One, although he wakes up and is generically ardent for the rest of the opera. Nucci brings experience to Scarpia, but his voice has dried up, and two acts of yelling do not constitute a subtle interpretation. When he sings, he looks like an older version of George W. Bush. The supporting cast is acceptable; a girl sings the Shepherd's song at the start of Act III.
Unfortunately, there's little drama onstage. There's no electricity between Tosca and Cavaradossi, and the Scarpia-Tosca interactions are not much better. Having made his mark on the production's architecture, Ronconi seems to have nothing interesting to do with the characters, who blundering around clumsily with little purpose. The end of Act One is particularly ineffective. Puccini's "shabby little shocker" feels merely shopworn here. It doesn't help that Muti's work on the podium is heavy and unimaginative.
The sound (Dolby Digital 5.1, DTS 5.1, LPCM Stereo) is acceptable, and the Anamorphic Widescreen image is good. The English subtitles lapse into the vernacular; I laughed when Scarpia encouraged Tosca to "spill the beans." The booklet writer momentarily forgets that Puccini wrote Tosca, not Verdi! (Hello, proofreader?) There are no special features, except for a purported "soundcheck" which I cannot locate for love or money. TDK Mediactive has an interesting catalogue of opera and ballet, so I hope that future releases turn out better than this Tosca, which promised much but delivered the bare minimum.
Copyright © 2003, Raymond Tuttle