Related Links
Recommended Links

Site News
CD Review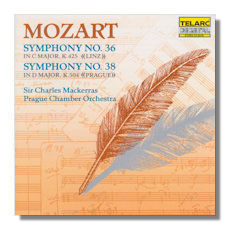 Symphony #36 in C Major "Linz", K425
Symphony #38 in D Major "Prague", K504
Prague Chamber Orchestra/Charles Mackerras
Telarc CD-80148
I've not heard the late Sir Charles Mackerras' second crack at Mozart on Linn and so can say only that some of my first, favorite discs I owned came from this wonderful Telarc series. All the discs are naturally available as a complete set for a very low price, but I feel that the average collector has little use for the early and possibly spurious symphonies. Thus I suggest that you pick and choose the best of the lot, which is not expensive to do, either new or used. These two particular performances are delightful and in fact new to me; having picked them up, I thought I'd share my thoughts on them.
The Prague Chamber Orchestra plays superbly, with a deeply pleasing sound from top to bottom. Sir Charles Mackerras tends to be forgotten among the greats, but a great he was, and he and his colleagues work wonders here. Phrasing is crisp and unfailingly elegant. Tempos are swift, but never crassly rushed. Every line is lovingly shaped, and articulation is exciting and a joy to hear. I've read that in the newer Linn set that the music is given a bit more room to breathe, and perhaps that was needed. Mackerras was certainly a conductor who only recorded music multiple times if he had something new to say, and so I can understand the more recent renditions being of interest.
That said, the music here is simply stunning in combining period ideas with modern practice. The inner movements of K425 are unbelievable, and the fleetly dancing presto of the same work simply shines. I sat at my desk and simply reveled in great Mozart, and those who know me understand that a Mozart performance needs to be exceptional to hold my attention. The same could be said of this excellent "Prague", full of buoyancy and ear-catching detail. Again, one wonders if more time could have led to an even greater transparency, but it still doesn't get much better than this. Wonderful first-desk playing, from the winds especially, seals the deal on a exceptional release. It isn't new, it isn't flashy, and it's just quite possibly the best.
Copyright © 2014, Brian Wigman