CD Review
Requiem
Frank Lopardo, tenor
Atlanta Symphony Orchestra & Chorus/Robert Spano
Telarc CD-80627 DDD 77:40

Early in the digital era (1984, to be exact), Telarc Records and the Atlanta Symphony Orchestra recorded what many at the time thought was the Berlioz Requiem to end all Berlioz Requiems. The conductor on that occasion was the late Robert Shaw, who made many outstanding choral recordings for Telarc during his long tenure in Atlanta. (Telarc CD-80109-2: Amazon - UK - Germany - Canada - France - Japan - ArkivMusic - CD Universe )
Spano became Music Director of the Atlanta Symphony Orchestra in 2001, and he has kept the Orchestra's international profile high through recordings. One might well ask why he wanted to, in effect, compete with his illustrious predecessor by re-recording the Berlioz Requiem almost twenty years later. Recording Producer Elaine Martone (who served as sound editor to the Shaw recording) anticipated such questions, and at the end of the recording sessions she addressed the conductor, choral director Norman Mackenzie, the Chorus (as always, all volunteers), and the Orchestra. "We are recording this because," she said, "without a doubt, you are the finest chorus in the world, and collectively, we have something new to say."
And in fact, the contrasts between Shaw's and Spano's readings are dramatic. One quickly notices that Shaw (like most conductors) could not fit his interpretation on a single CD. Spano does so, and with a little room to spare. In all movements but one (the "Quid Sum Miser," and there only barely), Spano's overall tempos are faster. At no point do they sound rushed, however.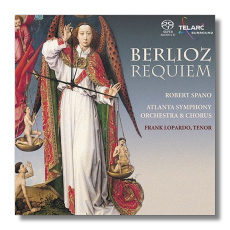 More importantly, though, the two conductors hear Berlioz's massive score in two different ways. Shaw's interpretation is thundering, grand, awe-inspiring, and likely to make you shake in your shoes. Climaxes are relished for their dramatic impact, and also as a celebration of sound for the sake of sound. That's not to say that Shaw's interpretation is shallow. It's just that his version is traditional, even conservative, in the most complimentary sense of those words. Spano, on the other hand, probably imagines the world ending not with a bang but with a whimper. Much of his recording is as quiet and eerily beautiful as can be justified by the printed score. The spectacle of the "Tuba mirum" (for example) is not elided, but what one remembers from this recording is not its thunder but its virtually post-nuclear stillnesses. The choral singing is no less memorable this time around, and Atlanta's brass section still has nothing to be ashamed of. Tenor Frank Lopardo is positively angelic in the "Sanctus," an impression strengthened by the engineers who have "distanced" him from the listener. The effect is striking on the CD, and I bet it is absolutely stunning on the SACD (which I have not heard).
Until BMG reissues the Charles Munch/Boston Symphony Orchestra recording, Spano's Requiem could very well be your best bet, unless you are looking for a more overtly theatrical performance. Even when Munch's version is reissued, though, it cannot possibly compare to Spano's in terms of engineering.
This music is an appropriate counterpoint to the series of hurricanes recently hitting the East Coast. Still, there's nothing quite like Hurricane Hector, and Spano's new recording helps us to appreciate the Requiem's deadly beauty, as well as its force. Enthusiastically recommended!
Copyright © 2004, Raymond Tuttle