CD Review
Gavriil Popov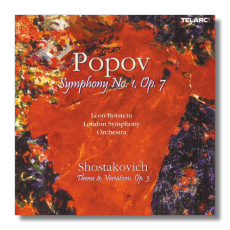 London Symphony Orchestra/Leon Botstein
Telarc CD-80642 DDD 65:24
Leon Botstein, Music Director of the American Symphony Orchestra and the Jerusalem Symphony Orchestra, makes a specialty out of recording unfamiliar but worthy works for Telarc. In recent years there have been symphonies by Hartmann and Dohnányi; now Botstein has turned his attention to the first symphony by Gavriil Popov (1904-1972). Popov was a contemporary of Shostakovich, and David Fanning's booklet notes enumerate the several parallels between their lives. Not least of these was the displeasure these composers and their music inspired in Soviet authorities. They were accused of "formalism" – a damning but rather vague term – and some of their best works had to be mothballed for decades as a result. Shostakovich's Fourth Symphony is a prime example of a masterpiece that was silenced for many years for political reasons. Similarly, Popov's Symphony #1 was banned the day after its 1935 première in Leningrad. The ban was lifted, but this symphony remains almost unknown in the West. In fact, it remained unperformed in the United States until recently, when Botstein and the American Symphony Orchestra took up its cause.
According the composer, this symphony was inspired by his father, "a worker and fighter on the front of proletarian culture," and it is about "1) struggle and failure, 2) humanity, [and] 3) the energy, will and joy of the victor's work." If you can imagine Shostakovich with the biting irony, and Prokofieff without most of the grotesquerie, then that will give you a good idea of what Popov's First Symphony sounds like. In the outer movements, Popov's use of angular themes and motoric rhythms is very reminiscent of Prokofieff, and the Finale's climax obviously was inspired by the closing of Prokofieff's Scythian Suite. Rather than just a bit of imitation, however, Popov's work stands on its own. It is a sincere, even optimistic portrait of a time in which there really wasn't very much to be optimistic about. And perhaps that's why Popov's First hasn't gone the way of Shostakovich's Fourth – yet, at least: it doesn't live up to our expectation that there will be a subtext or a coded gesture of defiance. Sometimes a cigar is just a cigar, but that doesn't make it a less satisfying smoke.
Shostakovich's Theme and Variations were written between and 1921 and 1922, when the composer was a teenager studying at the Petrograd Conservatory. They are dedicated to his late counterpoint teacher, Nikolai Sokolov. "Charming" is not the first word that usually comes to mind concerning Shostakovich's music, but this time, the adjective fits. The theme is an original one, and in its lack of ambiguity, not very typical of the composer. Neither are the11 brief variations. What is typical of the composer, even at this young age, is the ingenuity and assurance with which he develops the material. This is a fun piece, and in no way deserving of the obscurity in which it has resided up until now.
Botstein is a good advocate for both of these works, although one could imagine a little more wildness in the Popov, and the London Symphony plays them well. Telarc's engineering is up to par. The music is of more than casual interest, particularly to those who are sympathetic to music from the Soviet era, so do not hesitate if you count yourself in that category.
Copyright © 2005, Raymond Tuttle