Related Links
Recommended Links

Site News
CD Review
The Second Viennese School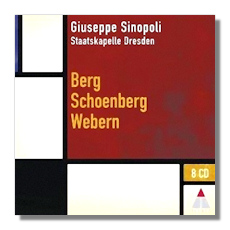 Sieben frühe Lieder 1
Der Wein 3
Three Orchestral Pieces, Op. 6
Lyric Suite for Soprano and String Quartet 2
Three Fragments from "Wozzeck" 2
Lulu - Symphonie for Soprano and Orchestra 2
Violin Concerto "To the Memory of an Angel" 4
Chamber Concerto for Piano and Violin & 13 Winds 4,5
5 Orchesterlieder nach Ansichtskartentexten von Peter Altenberg, Op. 4 2
6 Lieder "Orchestral Songs", Op. 8 2
A Survivor from Warsaw, Op. 46 6
Chamber Symphony #1, Op. 9
Pierrot lunaire, Op. 21 7,5
Erwartung, Op. 17 2
Gurrelieder 3,8
Begleitungsmusik zu einer Lichtspielszene (Accompaniment to a Cinematographic Scene), Op. 34
Im Sommerwind
Passacaglia, Op. 1
Six Orchestral Pieces, Op. 6
Five Orchestral Pieces, Op. 10
Symphony, Op. 21
Concerto, Op. 24
Variations, Op. 30
1 Juliane Banse, soprano
2 Alessandra Marc, soprano
3 Doborah Voigt, soprano
4 Reiko Watanabe, violin
5 Andrea Lucchesini, piano
6 John Tomlinson, narrator
7 Luisa Castellani, voice
8 Jennifer Larmore, Bernd Weikl & Kenneth Riegel
Staatskapelle Dresden/Giuseppe Sinopoli
Teldec/Warner Classics 2564-69414-0 8CDs 8:36 DDD
This magnificently performed and recorded set has to take place of place as the ideal introduction to the Second Viennese School and the music of the triumvirate mostly associated with this name composed of Schoenberg, Berg and Webern. On eight CDs one finds here the important and famous works from these composers in what are well-nigh definitive interpretations by the late-lamented Giuseppe Sinopoli who left the musical world so abruptly and tragically.
Arnold Schoenberg takes up practically half of this set and this is understandable as his output was singularly prolific when compared to the other composers. This "Gurrelieder" sweeps all before it; the glorious sound of the Staatskapelle Dresden matched by the superb team of soloists which includes Thomas Moser and Jennifer Larmore. The same intensity can be founding Alessandra Marc's singing of the Six orchestral songs which are early works, rather reminiscent of Mahler or Richard Strauss whilst the starkly intense "Erwartung" also finds Marc in equally fine voice.
Other works which we find here include "Pierrot lunair", a complex and highly difficult work as well as the equally intense "A Survivor from Warsaw" sung with passion by John Tomlinson, both works which find Schoenberg in true 12-tone element. When one turns to Berg, the musical language is equally stark but the orchestration is more Mahleresque, especially in the "Lyric Suite" and the lovely Violin Concerto, a passionate and beautiful performance by Reiko Watanabe. Other notable works by Berg in this set include the tragic farce, "Lulu" in an excellent symphonic suite as well as the fragments from "Wozzeck", another great work which I discovered in my early twenties and which still haunts me to this day.
The final disc is dedicated to Anton Webern and Sinopoli is really attuned to this idiom which is even more minimalist than the other composers. "Im Sommerwind" and the Symphony receive what are probably their best performances ever, surpassing Karajan's ground breaking set recorded in the early 1970's with the Berlin Philharmonic Orchestra. With acutely summarized notes by Guy Rickards and near perfect recordings, this set is now the essential companion for those who wish to acquire a comprehensive introduction to this sort of music.
Copyright © 2009, Gerald Fenech