Related Links
Recommended Links

Site News
CD Review
Symphony #3 in E Flat Major, Op. 55
Missa Solemnis, Op. 123
Leonore Kirchstein, soprano
Jeanne Deroubaix, alto
Peter Schreier, baritone
Günther Morbach, bass
Choir & Orchestra of the Gurzenich of Cologne/Günter Wand
Testament SBT1283 ADD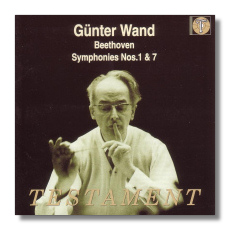 Symphony #1 in C Major, Op. 21
Symphony #7 in A Major, Op. 92
Orchestra of the Gurzenich of Cologne/Günter Wand
Testament SBT1284 ADD

Symphony #2 in D Major, Op. 36
Overture "Coriolan" in C minor, Op. 62
Overture "Egmont", Op. 84
Overture "Leonore" #3 in C Major, Op. 72a
Orchestra of the Gurzenich of Cologne/Günter Wand
Testament SBT1285 ADD

Symphony #4 in B Flat Major, Op. 60
Symphony #5 in C minor, Op. 67
Orchestra of the Gurzenich of Cologne/Günter Wand
Testament SBT1286 ADD

Symphony #9 in D minor, Op. 125
Teresa Stich Randall
Lore Fischer
Ferdinand Koch
Rudolf Watzke
Choir & Orchestra of the Gurzenich of Cologne/Günter Wand
Testament SBT1287 ADD
Günter Wand's recent demise has created an almost unprecedented interest in his previous recordings after a late Indian summer that saw so many fine discs of the central German repertoire.
This Beethoven symphony cycle minus the 6th and 8th is a buried treasure and demonstrates Wand's impeccable credentials in such repertoire in the mid 1950's when these recordings were made.
In the earlier symphonies, Wand's classical approach is always very pleasing and the end result are versions that may hold their own with other, more illustrious recordings. I was particularly enthused by the Second which is a model of clarity and a miracle of unforced motion. The three overtures on that disc are also compelling interpretations especially 'Egmont'
The Fifth is bold and restrained yet the explosive Finale really demonstrates Wand's ability to create and sustain climaxes. The same goes for a relaxed yet characterful Seventh that has a most poetic 2nd Movement.
Finally we have the Ninth, a towering achievement with the young Stich Randall particularly noticeable and a craggy, germane Missa Solemnis that is also comparable to the very best.
This is an extremely valid collection and as always Testament's remastering is of the highest quality throughout. There are more issues of Mozart's music from this relationship and if they are half as good as this series then they are also a strong buy.
Copyright © 2003, Gerald Fenech