Related Links
Recommended Links

Site News
CD Review
Günter Wand Conducts
Symphony #82 "The Bear" in C Major
Symphony #103 "Drum Roll" in E Flat Major
Symphony #92 "Oxford" in G Major
Gürzenich Orchestra of Cologne/Günter Wand
Testament SBT1356 68m 78m ADD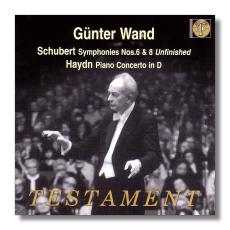 Symphony #6 in C Major, D. 589
Symphony #8 'Unfinished' in B minor, D. 759
Franz Joseph Haydn: Piano Concerto in D Major, Hob XVIII/11
Heinz Schröter, piano
Gürzenich Orchestra of Cologne/Günter Wand
Testament SBT1364 68m 78m ADD
One of the most inspiring of reissue projects in the last year has been the one Testament have dedicated to the early years of Gunter Wand's recording career. We have already had excellent accounts of Beethoven and Mozart symphonies and serenades and now it is the turn of some exquisite Haydn and Schubert symphonies. These recordings were set down in the mid to late 50's and early 60's with the Gürzenich Orchestra of Cologne for the fabled Club Française du Disque, an extremely popular recording club at the time which boasted millions of subscribers and they sound practically exquisite.
Wand's Haydn is mannered and beautifully conducted. He thrives on the forwardly placed winds of the Cologne Orchestra who make the Finale of 'The Bear' sound like one wild party. Similarly beautiful characteristics abound in the lithely and sparingly conducted 'Drum Roll' and the magnificent 'Oxford' with its wonderful opening movement that is noble and pompous without sounding at all exaggerated. The French recordings have come up trumps and this is surely a fine alternative to the more modern sounding Haydn that is currently the norm nowadays.
The second disc features a brilliant performance of Schubert's Sixth Symphony that is infectiously replete with joie de vivre and some wonderful frolicking in the Finale. Again, one wonders at the ensemble of the Cologne players who play with unabashed enthusiasm for their charismatic chief conductor. Wand's 'Unfinished' is a colossal reading that can rank as amongst the best recordings of the work. The imposing grandeur and haunting quality of the First Movement almost recreates a Friedrich like landscape, rather reminiscent of war ravaged Cologne rising out of the ashes. The second movement is also amazingly beautiful and Wand's empathy with the music is clearly evident.
It is a pity that the engineers for this fine series of underrated recordings are unknown as the sound reproduced is quite amazing for its time. The Haydn Concerto suffers from some recessed balancing for the orchestra but otherwise, Schroter is an impressive soloist and he is accompanied with great verve and energy by the seemingly inexhaustible Wand. We really must have more early Wand, some Bruckner or Brahms perhaps? One can only wait but in the meantime these outstanding recordings of haydn and Schubert will suffice.
Copyright © 2004, Gerald Fenech