CD Review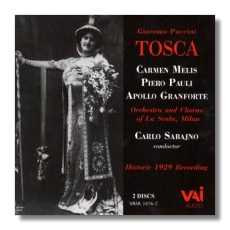 Tosca
Carmen Melis (Tosca)
Piero Pauli (Cavaradossi)
Apollo Granforte (Scarpia)
Giovanni Azzimonti (Angelotti/Sciarrone)
Antonio Gelli (Sacristan)
Nello Palai (Spoletta)
La Scala/Carlo Sabajno
VAI 1076 2CDs 109min
This show belongs almost entirely to Melis and Granforte. The soprano may have been past her prime when this recording was made in 1929, but – considering the level of artistry that we hear on these two remarkable discs – what an astounding prime it must have been! Despite some occasional unsteadiness, Melis still possessed a remarkable emotional range, from flirtatious coyness to ardent passion to violent jealousy, which she obviously exploits with relish. While she had an unfortunate tendency to sing flat and to r-r-r-r-oll her r's in an almost comically exaggerated manner, Melis also had a unique ability to get completely inside the text and bring a character to life. If her 'Vissi d'arte' is not the most beautifully sung on record, it is powerful and deeply moving nonetheless. In later years, Melis became Renata Tebaldi's teacher, and VAI has released two fascinating video versions of Tosca, both starring Melis's protégée.
It's good to finally hear Granforte's unique and powerful voice in a complete opera. My only previous experience with him had been through an occasional aria on 78s, and like Lee Milazzo (who reviewed a collection of Granforte's aria recordings on Preiser in the March/April 1992 American Record Guide), I found his characterizations "somewhat generalized". That is hardly the case here. Just one year younger than Melis, yet obviously at the peak of his powers, Granforte portrays Scarpia not only as the personification of evil but as one who, like Iago, clearly revels in his own vileness. In the blink of an eye, he effortlessly transforms himself from a merciless despot into a calm seducer. And through it all he's incredibly charming – a characteristic which makes his Scarpia all the more frightening. Sparks fly whenever he shares the stage (or should I say microphone?) with Melis.
Pauli is a weak, nasal, and annoying Cavaradossi who too often "proclaims" when he should simply sing his lines. Needless to say, he is not missed when Scarpia's men finally do him in. The supporting cast ranges from very good (Azzimonti and the unidentified Jailer) to execrable (the mercifully unidentified shepherd boy). Conductor Sabajno keeps everything moving forward, rarely allowing the tension or excitement to lag. The La Scala orchestra plays well, though the strings are weak and not always together. There's an unpleasant blast of distortion whenever two singers join in a fortissimo, but otherwise the sound is adequate for its era. Volume levels often vary from one 78-rpm side to the next, and VAI has not always gone to the trouble of correcting this problem. For some mysterious reason, Act II has been divided between the two discs, even though it would have fit comfortably on either. No libretto, translation, or plot summaries, but fans of early opera recordings won't want to be without this fascinating document.
Copyright © 1996, Thomas Godell