Related Links
Recommended Links

Site News
CD Review
Angelic Light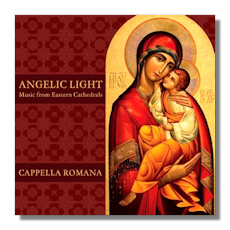 Music from Eastern Cathedrals
Ivan Moody:
Ikos Six, from the Akathistos Hymn
Tebe Raduyetsya
Peter Michaelides:
Cherubic Hymn
Communion Verse for Sundays
Megalynarion for Christmas
Sergei Glagolev:
Now the Powers of Heaven
Cherubic Hymn
Let All Mortal Flesh
Tikey Zes:
Cherubic Hymn (in English)
Cherubic Hymn (in Greek)
Communion Verse for Sundays
Great Entrance and Communion Hymn for Holy Thursday
Richard Tensing: What Shall We Call You
Frank Desby: As Many of You as Have Been Baptized
Hieronymos Tragodistes of Cyprus: O Great and Most Sacred Pascha
Medieval Byzantine chant: Kontakion of the Mother of God
Cappella Romana
Valley Entertainment 2-VLT-15235
This is a collection of Eastern Orthodox choral works culled from previous recordings made by Cappella Romana, a mixed vocal ensemble devoted largely to early music that was founded in 1991 by Alexander Lingas. I have copied the track information as it appears on the CD, but composers are not credited for some reason by the label. O Tebe Raduyetsya was written by Ivan Moody (b. 1980) and the Cherubic Hymn (in English Mode Plagal IV) by Sergei Glagolev (b. 1927), both priests in the Eastern Orthodox Church. Moody is English, Glagolev American, and other composers on the disc like Richard Toensing and Tikey Zes were also born in the US. Peter Michaelides was born in Greece in 1930 but has been a resident of the US since 1937. Most of the repertory offered here then is hardly early music, nor is it of Eastern Cathedral-origin, though in spirit it certainly fits more or less into that style.
I can say that almost all of the music on the CD, which is sung a cappella as you may have assumed, has a lovely chant-like flow but is more Romantic and less austere in style than chant. Serenity, peace and an ecstatic religious sense permeate almost every number. The Communion Verse for Sundays is one such lovely effort here. But there are many gems including Let All Mortal Flesh and Moody's O Tebe. The one ancient hymn Kontakion of the Mother of God is darker in mood than the other works, not least because it is sung by male voices and dominated by middle and lower vocal ranges to boot. All that said, it has a haunting quality that makes it one of the more outstanding numbers here. Toensing's What Shall We Call You is quite the opposite in its innocence and bright character, but equally memorable.
The Cappella Romana sing admirably throughout, capturing the Byzantine style with a masterly sense. The sound can vary slightly from one track to another, but is generally quite clear, although the first two tracks containing, respectively, As Many of You As Have Been Baptized and O Great and Most Sacred Pascha, had a slightly cavernous sound, as though performed in a large empty church. Still, even these efforts had enough clarity and sonic warmth to be effective. All in all then, this is a fine release that should appeal to admirers of Byzantine-style hymns and chant.
Copyright © 2012 by Robert Cummings.