CD Review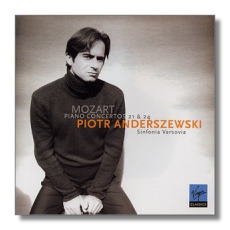 Piano Concertos
Piano Concerto #21 in C Major, K. 467
Piano Concerto #24 in C minor, K. 491
Piotr Anderszewski, piano
Sinfonia Varsovia/Piotr Anderszewski
Virgin Classics 5 45504 2 DDD 59:30
This is a follow-up to Anderszewski's well-received recording of Beethoven's Diabelli Variations (Virgin Classics 5 45468 2). The pianist excited comment during the Leeds Competition in 1990 when, displeased with his own performance, he stopped playing in the middle of the semi-final round and withdrew.
These Mozart performances are characterized by intriguing contrasts. The most striking of these is the contrast between the sound of the piano – rich and subjective – and the dry, almost analytical sound of the Sinfonia Varsovia. I don't know if the Sinfonia is an original instruments ensemble, but whether it is or isn't, its timbres and performance style certainly suggest one. It is like listening to an x-ray of Mozart's orchestral writing – the textures are aerated and the lines are as clean as desert-bleached bones. Not everyone will like the sinewy string tone. No one can accuse the Sinfonia Varsovia of sounding bloated, however.
Anderszewski leaves it to the piano to provide a cushion for the ears, treating the orchestra as its foil. Albeit within Classical boundaries, he uses timbre and phrasing to give the power of expression to these performances. In so doing, I think he permits himself interpretive and expressive liberties that he doesn't permit the Sinfonia Varsovia. This creates an interesting and not unmusical tension throughout the disc. Unfortunately, the piano has been balanced too far forward, and Anderszewski outplays the Sinfonia Varsovia during the music's climaxes.
Anderszewski's fine technique allows him to conjure up brilliant effects when they are needed. He takes up a treasured tradition by playing his own cadenzas in both concertos. These, like his interpretations in general, are a bit left of center: Classical, but with a little twist of the knife. I also feel the knife twisting in the third movements of both concertos, because here the pianist's super-sensitive phrasing becomes a mannerism. There's something of an acid wit to these finales.
These recordings were made in Warsaw's Philharmonic Hall in August 2001. Apart from the balance problems noted above, the engineering is appealing.
These provocative readings are worth hearing, although I expect many traditional-minded listeners will find them difficult to embrace.
Copyright © 2002, Raymond Tuttle