CD Review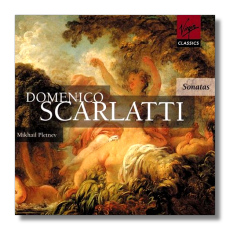 31 Sonatas for Keyboard
Sonatas K. 1, 8, 9, 11, 17, 24, 25, 27, 29, 87,
96, 113, 141, 146, 173, 213, 214, 247, 259, 268,
283, 284, 378, 380, 386, 387, 404, 443, 519, 520 & 523
Mikhail Pletnev, piano
Virgin Classics CDVB61961 DDD 2CDs: 71:18, 68:45
This collection, recorded as recently as 1994, now has been issued a second time at about one-third its original price. If you've waited, wait no more.
Pletnev, whose career also includes conducting, initially made a name for himself playing and recording the Romantic piano repertoire. However, there are several prominent pianists of the Russian school (Horowitz and Pogorelich, to name two) who literally couldn't keep their hands of the keyboard music of Domenico Scarlatti, and Pletnev is more than fit to join their company, with predictably brilliant (but controversial) results.
Originally associated with Naples, Scarlatti emigrated to Portugal and then to Spain as he followed the court of Maria Bárbara de Braganza. In her service, he assimilated the rhythms, melodies, and timbres of his new surroundings, so these sonatas sometimes are spoken of as early examples of Spanish classical music. Although the Queen did own fortepianos, it is likely that Scarlatti wrote and played these sonatas on harpsichords – almost certainly instruments with two manuals (keyboards), but possibly with three. In other words, it is not "authentic" to play this music on a modern concert grand piano. But so what? The harpsichord can be a fantastic instrument, but the piano offers so many more possibilities, especially in terms of dynamics, pedaling, and tone color.
Having chosen the "wrong" instrument, Pletnev plays the piano like a piano, instead of trying to imitate a harpsichord. The results are performances that eerily anticipate composers, such as Chopin and Debussy, who wouldn't be born for another century or so. Are the fandango and the polonaise really so different? Listen to Pletnev's performance of the D-major sonata, K. 443, and tell me that you don't hear both sabers and salons, and a span of more than one century collapsed into five minutes. And didn't Debussy convincingly evoke the moods of the Iberian Peninsula, even though he spent no more than one afternoon in his entire life there? Is the D-minor sonata, K. 213, not an antecedent of Debussy's impressionism, as Pletnev plays it here?
Pletnev avoids a mistake made by some of his peers: he doesn't play the faster sonatas (except perhaps K. 24!) as "look how quickly I can play" vehicles. His tempos are well judged, although his slows do tend to be quite slow, and his fasts quite fast!
There are listeners who find Pletnev too romantically expressive, and who claim that he exaggerates the music's extremes in a manner inconceivable to the composer. They might be right, by readings such as Pletnev's replace authenticity with the imagination and taste of a great pianist. Traditionalists might want to stick with Landowska, Kipnis, or Puyana – three undeniably colorful harpsichordists. Happy the listener who can appreciate both "old school" and "new school" Scarlatti. Pletnev's generous selection is an unbeatable example of the latter.
Copyright © 2002, Raymond Tuttle