[This article originally appeared on page 78 of the Calendar section of the Sunday, December 18, 1988 Los Angeles Times as a "Commentary." – Ed.]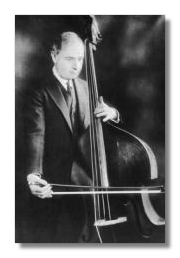 "The most important of all Russian conductors, and still the greatest" is how the distinguished critic Harold Schonberg characterized the late Serge Koussevitzky. But today his name recognition registers near zero. Worse, in this era of high-tech compact disc reissues of magnificent old performances, there is not a single CD of Koussevitzky conducting. And on LP or cassette, all we have had in recent years are his memorable readings of the Sibelius Symphony No. 2 and the Khachaturian Piano Concerto (with Kapell), along with three virtually unobtainable pieces by Harris, Casella and Cowell.
Early in his career, Koussevitzky was a fabulously successful conductor in Russia and Europe and a pre-eminent double-bass virtuoso. His 1905 marriage to Natalie Ushkov, daughter of a tea merchant, brought him lifetime access to an immense fortune. Fleeing Russia and the Bolsheviks in 1920, he spent four triumphant years in Paris as well as other European centers, and then succeeded Pierre Monteux as conductor of the Boston Symphony Orchestra.
During the quarter of a century that Koussevitzky was its charismatic, aristocratic and egocentric maestro (from 1924 to 1949; he died in 1951) he had only two rivals in America: Toscanini and Stokowski. As relentless a perfectionist as the former, as skilled a magician with orchestral color as the latter, and having probably a wider repertory than either of them, Koussevitzky took the Boston Symphony to such heights that by 1930 New York Times music critic Olin Downes called it "an orchestra which is without a superior if it has an equal in this country."
Almost four years later, Schonberg wrote in The Great Conductors (1967), "Many thought that under his baton the Boston Symphony Orchestra was the greatest in the world, superior even to so virtuoso a group as the Philadelphia Orchestra under Stokowski."
Why, then, is he so conspicuously missing in action? Jack Pfeiffer, executive producer of RCA's Red Seal Artists and Repertoire, said that although the company "owns scads" of additional recordings of Koussevitzky's performances, "the merchandising people feel it's not the proper time and there isn't a proper demand" to reissue them.
"But we will get around to it eventually, " Pfeiffer said, "because artistically he is great."
Will it take nothing short of a mythical Rambo (now there's a recognizable name) to descend into RCA's vaults and rescue Koussevitzky? If so, what recordings could be brought back to us?
There should, for starters, be Koussevitzky's astonishingly "wet" Debussy La Mer and Ravel's 2nd Daphnis et Chloé Suite, both of them among history's most legendary discs. Out should also come the amazing, peerless version of Berlioz's Harold in Italy (with violist William Primrose), staggering in its emotional fervor and evocation of the fantastic.
Widely considered in his time the finest exponent of the modern French school, Koussevitzky was also renowned for his treatment of the Russians. His Rachmaninoff Isle of the Dead is compelling in its brooding urgency and stands second only to the composer's own superhuman recording with the Philadelphia. Why is this not rereleased too? Moreover, there are Koussevitzky's stunning Prokofiev Classical Symphony, Moussorgsky Pictures at an Exhibition, and impassioned Romeo and Juliet and 4th Symphony by Tchaikovsky, a composer with whom the conductor was virtually identified.
Together, all these recordings-and many others that should be reissued-are eloquent reminders of the passionate warmth, tenderness, imagination, sweeping grandeur and nobility that characterized Koussevitzky's conducting. These performances, despite their age, contain an elegance of pure sound that has not been surpassed-and maybe not even rivalled-to the present day. More important, on these records we sense a constant striving for the spiritual greatness that music can represent. Like some other titans of his age, such as Klemperer, Furtwängler and Knappertsbusch, Koussevitzky conducted with a profound moral fervor.
As if Koussevitzky's towering achievements as a conductor were not enough, he made equally lofty contributions to the development of music in the United States during the first half of this century. Aside from being the principal founder of one of America's premier summer music festivals, Tanglewood, he almost single-handedly created what is now the Tanglewood Music Center. Over the years the center has helped produce a virtual "Who's Who" of the world's current leading conductors, from Von Dohnanyi, Dutoit and Ozawa, to Mehta, Maazel and Abbado. Of course, the most famous was Leonard Bernstein, Koussevitzky's assistant and prize protégé, who once wrote to his parents that Koussevitzky "is the most marvelous man-a beautiful spirit … [who] inspires me terrifically."
A messianic supporter of musical talent, Koussevitzky was long this country's most ardent and effective proponent of such internationally important composers as Shostakovich, Scriabin, Prokofiev and Sibelius. Koussevitzky also led the battle for almost every significant young American composer, from Hanson, Harris and Piston to Barber and Copland.
After establishing the Koussevitzky Music Foundation in 1942, he was responsible for the commissioning of countless, often notable works, among them Ravel's Piano Concerto in G and the orchestration of Mussorgsky's Pictures, Bartók's Concerto for Orchestra, Roussel's Symphony in G, Britten's Peter Grimes and Stravinsky's Symphony of Psalms.
About 30 years ago it was, disgracefully, almost impossible to find a recording by Wilhelm Furtwängler anywhere in America. Only recently has that conductor's glorious discography been amply restored. Let us hope that the recording industry will similarly rerelease another of musical history's most extraordinary figures.
This article is copyright 1988 by Victor Koshkin-Youritzin.
Koshkin-Youritzin is currently (2006) Vice President of the Koussevitzky Recordings Society; he is also David Ross Boyd Professor of Art History at the University of Oklahoma, Norman, OK, USA
Please note: in the original Los Angeles Times article, titles were put in quotation marks; here titles have been italicized. A few minor changes have been made to the original article: one date has been corrected (Harold Schonberg's The Great Conductors was originally given an incorrect 1968 instead of 1967 publication date), and two missing accent marks, a hyphen, and a missing comma have been added.
This article has been reprinted in the following four publications, under different titles:
"Koussevitzky: un oubli injustifié" ("An Unjustified Oblivion"), Sonances (a scholarly music journal), Montreal (Quebec), Winter, 1989, volume 8, number 2, pp. 37-38, translated into French
"Bez Vesti Propavshi" ("Missing in Action"), Novoye Russkoye Slovo (the oldest Russian language daily in the world), New York, weekend edition, March 11-12, 1989, p. 17, translated into Russian with a preface by Alexander Grant
"Koussevitzky," Oklahoma Gazette, Oklahoma City, March 15, 1989, p. 30
"Koussevitzky: Still the Greatest," Williams Alumni Review, Williams College, Williamstown, MA. Spring 1989, pp. 20-21.
This article's reprint in the Williams Alumni Review stimulated one of the largest reader responses the Review ever received about one of its articles. The Summer 1989 issue of the Review carried seven letters to the editor (pp. 25-26) about the article, including letters praising Koussevitzky from: Mark Obert-Thorn; Montreal Symphony Orchestra Music Director Charles Dutoit; and William F. Buckley, Jr. (Messrs. Dutoit and Buckley are not Williams alumni). The Fall 1989 Review (p. 28) carried two more letters in tribute to Koussevitzky, including one from Edward D. Young (again, not a Williams alumnus), who had produced The National Public Radio series "The Koussevitzky Legacy." As the Review's editor, Thomas W. Bleezarde, wrote (p. 28): "In view of the volume of mail we have received regarding [this] article – we must call a halt to letters on this subject. Thank you all for writing."
Since the publication of my Los Angeles Times article, many of the Koussevitzky performances listed in it have been reissued on CD.
My deepest thanks go to Dave Lampson for having formatted all the above material and put it up on the web. I also want to thank Tom Godell for having found the photograph included here of Koussevitzky playing the double-bass. My Los Angeles Times article was accompanied by a different photograph of Koussevitzky. – V.K.-Y.