Concert Review
Lutosławski, Liszt and Tchaikovsky in Paris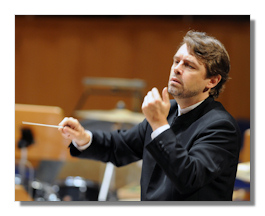 Khatia Buniatishvili, piano
Orchestre de Paris/Andrey Boreyko
Paris, Salle Pleyel, 12 June 2013
Paris celebrates the 100th anniversary of the birth of the Polish composer and conductor Witold Lutosławski (1913-1994) with a series of concerts, performed by local and invited ensembles throughout the year. The Orchestre de Paris has worked on different occasions with the composer and revives a couple of his works. The Concerto for Orchestra, dating from 1950-54, remains one of his most popular works. For the occasion, at the Paris Salle Pleyel, it was somewhat awkwardly squeezed into a program which also featured Liszt's Second Piano Concerto, with Khatia Buniatishvili as soloist, and Tchaikovsky's rarely heard Third Suite.
The Orchestre de Paris was founded in 1967 by Charles Munch, continuing the Société des Concerts du Conservatoire which dates back to 1828. It had prestigious maestros like Herbert von Karajan, Georg Solti, Daniel Barenboim and Christoph von Dohnányi as music directors and is currently led by Paavo Järvi. Lutosławski's Concerto for Orchestra has appeared several times on the orchestra's program in the last decades, including a performance conducted by the composer himself in 1982. Now it was St. Petersburg-born Andrei Boreyko, presently music director of the Düsseldorfer Symphoniker as well as of the Belgian National Orchestra, who in his debut with the Parisian formation took the honors.
Boreyko opened with a weighty account of the Intrada. The too prominent timpani and the spacious tempo, sounding more like twisted Brahms, scrambled the threatening atmosphere at the outset. While precise in details, an edgier, fiercer account would also have benefitted the second theme of this movement and the sonorous climax sounded hefty rather than incisive. The Capriccio Notturno, however, was agreeably light and fluent, while the complex final movement Passacaglia, Toccata e Corale was quite superbly constructed. Again, highly attentive to orchestral color and balance, keeping taut, rhythmic and also emotional control, Boreyko skillfully captured Lutosławski's changing moods without turning them into an earsplitting showpiece. Tutti were powerful without being overwhelming; Boreyko is clearly not a man of easy sonic excesses – which in this case may be counted a blessing.
This concert marked Khatia Buniatishvili's return to the Salle Pleyel after her triumphant solo recital last November (Paris, Nov. 19, 2012). That tonight's concert was virtually sold out was undoubtedly due for a large part to her presence on the poster and by no means did she disappoint. Her performance of Liszt's Second Piano Concerto was commanding, both graceful and passionate, balancing lyricism and virtuosity with a sure hand. Buniatishvili's contrasts of tempo and dynamics were less outspoken here than usual, yet honoring the "Concerto symphonique" notion of the composer, her pianism blended naturally within the orchestral textures and while sufficiently varied, Liszt's successive mood swings were tightly kept together. The dialogues between pianist and orchestral soloists were elegantly rendered, especially the luminous duet with the cello of Emmanuel Gaugué in the Allegro moderato section. The lyrical passages breathed tenderness and serenity. Boreyko proved a sympathetic and skilled partner, securing a well balanced sound, never trying to put himself above his soloist. Although the woodwinds were not particularly remarkable, the strings provided a richly layered canvas.
Buniatishvili offered two encores, a temptingly-shortened Egon Petri transcription of Bach's Sheep may safely graze and the signature breakneck Precipitato from Prokofiev's Seventh Sonata.
Unlike Lutoslawski's Concerto, the Orchestre de Paris had never performed Tchaikovsky's Third Suite in G Major (1884) before. Always looking for ways to break free from the traditional symphony and the symphonic poem, Tchaikovsky obviously enjoyed the structural freedom of the suite. Yet, just as much as his symphonies, his four orchestral suites are by their lyricism and frequent inclusion of dance forms strongly linked to the theatre. The world of ballet and fairytales is never far away.
Theatricality, however, was exactly what was missing from Boreyko's traversal. With an almost chaste Gallic cool, the orchestral polyphony was unraveled; the string textures were rendered with appropriate detail, while the woodwinds, brass and percussion added color. Dynamics were well controlled and, as could be expected, there was no sign of any excess. But a true sparkle, an occasional flash of fire was missing. The Elégie and the Valse mélancolique were phrased in a rather plain fashion and lacked sufficient breath to gain their full theatrical impact. In fact it sounded all rather listless – which this music is anything but. In the opening Elégie Tchaikovsky's molto cantabile notation was underplayed, while the Valse mélancholique, one of the most dramatically intriguing Tchaikovsky ever wrote, was short on mystery and far too relaxed. The Scherzo was better handled, flowing with a well-judged tempo and a light touch. In the closing Tema con variazioni Boreyko coaxed plenty of expressive diversity in the variations and some fine solo contributions from the orchestra leader Philippe Aïche and the cor anglais, although a true frisson was only found in the closing pages of the Polacca.
Copyright © 2013, Marc Haegeman