Blu-ray Audio Review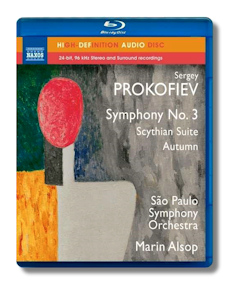 Symphony #3 in C minor, Op. 44
Scythian Suite, Op. 20
Autumnal Sketch, Op. 8
São Paulo Symphony Orchestra/Marin Alsop
Naxos Blu-ray Audio NBD0047 61:25 LPCM Stereo DTS-HD Master Audio

Symphony #5 in B Flat Major, Op. 100
Scythian Suite, Op. 20
Bergen Philharmonic Orchestra/Andrew Litton
BIS SACD-2124 67:00 Hybrid Multichannel
Prokofiev's symphonies have been getting a lot of attention lately: three conductors are currently involved in recording complete sets of his symphonies. Marin Alsop is nearing the end of her cycle on Naxos, while the other two, Andrew Litton on BIS and Kyrill Karabits on Onyx, are both two volumes into their respective efforts. Oddly, Naxos already has a very good complete set of Prokofiev symphonies in the catalog, with Theodore Kuchar and the National Symphony Orchestra of Ukraine.
Alsop's account of the Prokofiev Third Symphony is a relatively subdued take on what usually comes across as violent and fiery music. "Fiery" it is indeed, as it was drawn from the composer's then unperformed opera The Fiery Angel. Where Alsop's Prokofiev Second Symphony played up the aggressiveness and crushing power of the work, her view of the Third plumbs the piece for its more subtle aspects. It's hard to argue against her approach: the second movement comes across with considerable depth in the way she points up detail and hones in on the music's mysterious and sinister character, and the third movement's wind-over-the-graveyard music rarely has sounded so chilling and otherworldly. True, the outer movements come across with less power here, but they brim with energy, passion and reek of dark atmosphere. The hysterical march that caps the first movement's climax is deliciously sinister even if it loses some detail in the brass near the end, and the two big lyrical themes are always phrased with both sensitivity and intelligence. While the first half of the finale is somewhat understated, the last portion is urgent and driven before turning utterly catastrophic at the end. Ultimately, this must be regarded as a very persuasive if slightly controversial account of the symphony. Muti may still have the edge in this work, but Alsop offers a convincing alternative approach well worth your attention.
Alsop's Scythian Suite is also somewhat scaled down, at least in terms of decibels, but the music isn't short on energy. Thus the work's opening sounds more frenetic and driven than crushing and savage, while the ensuing movement, The Enemy God and the Dance of the Spirits of Darkness, comes across as frenzied and breathless. The slow movement, Night, is very atmospheric and quite detailed, and the finale's lighter moments often sound more busy than witty, while some details of orchestration blend into a slight haze, notably in the triumphant ending. This is a good performance of the Scythian Suite though, but one, like the symphony, that will generate a measure of controversy. Alsop paces the early Prokofiev work, Autumn, briskly, thus playing down the lush character of the middle section somewhat and not pointing up the influence of Rachmaninov. Her more animated interpretation works well and must be considered in the company of the better versions of this piece by Karabits and Ashkenazy. The São Paulo Symphony Orchestra plays splendidly in all works and Naxos provides vivid sound reproduction. Richard Whitehouse offers intelligent and informative notes. (I should mention that this disc is also available on CD.)
I reviewed Alsop's Fifth here in 2012 (Naxos 8.573029), the Fourth in 2013 (Naxos Blu-ray Audio NBD0038), and the First and Second last year (Naxos Blu-ray Audio NBD0044), finding all of them successful ventures. I would say Alsop's finest effort in the series thus far came in the Second Symphony, though her Fourth was nearly as impressive. Her First and Fifth were also very strong efforts, and thus far her cycle must be considered a great achievement. Let's hope the Sixth and Seventh symphonies continue in the same mold.
Andrew Litton offers a Prokofiev Fifth that is epic and big, not necessarily in decibels but certainly in scope. His somewhat measured tempos in the first and third movements are more in the mold of Bernstein, Tilson Thomas, Maazel, Ormandy and Levi than in the brisker manner of Koussevitzky (a Bernstein mentor, ironically), Szell, Rozhdestvensky, Mravinsky, Martinon, Jansons, and Gergiev. Litton's first movement ending is more triumphant and all-conquering than it is crushing or fierce. The tuba, an instrument so essential in big Prokofiev scores, comes through more clearly in this passage than I've ever heard before. The Scherzo is full of wit and spirit, with orchestral detail emerging vividly. Notice, too, the care Litton takes in phrasing the transition to the trio, how the strings linger just a bit before the oboe comes in. The third movement is paced very judiciously, and once again Litton's phrasing is intelligent and very sensitive to the mood of the music. The middle section comes across particularly well: he does not push the tempo ahead as Gergiev and others do here, but conveys the tragedy with a deft sense for gripping drama, and the orchestra responds with total conviction. Without doubt, this is one of the finest accounts of this movement ever put on record. The finale is witty and whimsical but has just the right amount of acid and sarcasm to reach a perfect balance in the colorful sonic landscape. An incredible Fifth all around, putting it into competition with the finest past efforts, by Bernstein, Levi, Weller, Tennstedt and perhaps a few others. I should add that I am pleasantly surprised at how excellent the Bergen Philharmonic Orchestra is.
Litton's Scythian Suite clocks in at 20:49, compared with Alsop's 20:23. Yet, you would swear Litton's is several minutes slower: his Scythian is weightier, more detailed and demonstrably less driven in the opening and second movement. Good as Alsop's Scythian is, Litton's is better. In fact, it may well surpass such previous excellent versions by Doráti, Abbado, Jarvi and Previn. BIS' sound reproduction on this SACD is very vivid and powerful and Andrew Huth's profuse album notes are enlightening. Unfortunately, I missed Litton's first issue in his Prokofiev Symphony series, which contained the Sixth Symphony, Lt. Kije and Love for Three Oranges Suite. I may still try to acquire it as I suspect it too will be superb. As for Litton's disc of the Fifth Symphony, I must give it my highest recommendations!
Copyright © 2015, Robert Cummings