CD Review
Italian Opera Arias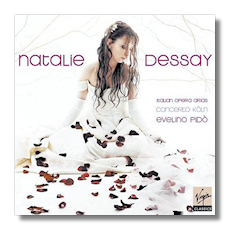 La Traviata: È strano … Ah! fors'è lui … Follie! Follie! … Sempre libera
Rigoletto: Gualtier Maldé … Caro nome
I puritani: O rendetemi la speme … .Qui la voce sua soave … Vien diletto
I Capuleti e i Montecchi: Eccomi in lieta vesta … Oh! quante volte
Maria Stuarda: Allenta il piè, Regina … Oh nube che lieve … Nella pace del mesto riposto
Lucia di Lammermoor: Il dolce suono … Ardon gli incensi … Spargi d'amaro pianto
Natalie Dessay, soprano
Europäischer Kammerchor
Concerto Köln/Evelino Pidò
Virgin Classics 5-14365-2 DDD 73:25
This release obviously is meant to complement Dessay's appearances in Lucia di Lammermoor at the Metropolitan Opera House this year. In fact, she opened the Met's 2007-08 season with this opera, presented in a striking new production directed by Mary Zimmerman. The CD is accompanied by a bonus 21-minute DVD of the complete Mad Scene, but more about that later.
Dessay (born Nathalie Dessaix!) is not a newcomer – she was 42 on opening night this season – but now she is being given a star debutante's attention. Her breakthrough come in 1992, as the mechanical doll Olympia in a controversial production of The Tales of Hoffmann at the Opéra Bastille. She made her Met debut two years later (Fiakermilli in Arabella) and has appeared there several times. She has appeared in lyric coloratura roles in most of world's most prominent opera houses. Dessay experienced a period of vocal difficulty beginning in 2002, but following surgeries on one of her vocal cords, most recently in 2005, she seems to be back on track.
Her voice definitely sounds healthy and secure on this new CD, which was recorded in the summer of 2007. Compared to Mado Robin and Mady Mesplé, two French singers (one dead, the other retired) who were her predecessors in this repertoire, Dessay's voice has more body, less vibrato, and is a little darker and less "twittery." Still, the sound is relatively slender, although not to the point of becoming a liability. This is the kind of voice that often is called "charming," for both the good and the bad that such a word entails.
But is "charming" enough? In the 1950s, Maria Callas revolutionized bel canto singing, particularly with roles such as Lucia, and Elvira from I puritani. No longer was it sufficient to sing prettily and accurately, and with impressive high notes – the music's meaning and drama took on new (or better, newly-recognized) importance. I don't mean to suggest that Dessay's singing lacks drama, or that she doesn't invest the music with meaning, but I can't help thinking that we are going back to the era of Lily Pons and Patrice Munsel. "Pretty" is once again in style, and "truthful" not so much. Lucia's madness is conveyed primarily through stage blood and directorial flourishes. Look at the DVD and what you will see (much more than hear!) are the externals of Lucia's shattered mental state. A blood-curdling shriek near the end of the scene (on both the DVD and the CD, which was recorded elsewhere) seems calculated to establish Lucia's madness, but it doesn't work … and it sounds vocally dangerous besides!
I don't want to belabor my complaint, so let me say that this CD contains buckets of gorgeous singing, if gorgeous is what you want. No expense has been spared to put Dessay's glittering vocal jewels in their most complementary setting. Roberto Alagna is on hand to sing Alfredo's few lines (much too loudly, and exaggeratedly, too) from "Sempre libera." (He is better behaved in the scene from Rigoletto. Now that's luxury casting: Alagna as Borsa!) Franck Ferrari, Matthew Rose, Wolfgang Klose, and Karine Deshayes appear in other supporting roles, and the selections are given as completely as possible. (For example, we get both verses of "Ah! fors'è lui.") Concerto Köln makes a few coarse and unidiomatic sounds through the course of the program, although Pidò knows what he is doing. The booklet contains Italian texts and English translations.
Dessay's fans will be thrilled by this. For me, it was a pleasant experience indeed, although nothing about Dessay's interpretations added to my appreciation or understanding of this repertoire.
Copyright © 2008, Raymond Tuttle