Concert Review
Detroit Premiere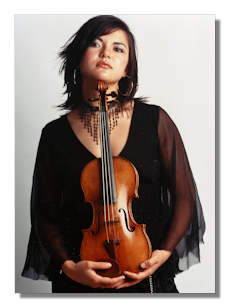 * Karen Gomyo, violin
Detroit Symphony Orchestra/Cristian Macelaru
Detroit Orchestra Hall, 28 March 2015
Just under two years after her first appearance in Detroit (April 6, 2013), Karen Gomyo returned to the stage at Orchestra Hall for a strange yet satisfying program under Cristian Macelaru. Originally, Rafael Frühbeck de Burgos was to lead this weekend's programs; his untimely death from illness in June 2014 prohibited this. Cristian Macelaru wasn't exactly Leonard Bernstein standing in for Bruno Walter, but he did manage to give the most interesting and artistically satisfying performance I had heard from this orchestra in some time.
The Ligeti and Webern were unusual choices, with the former never played in Detroit until now. Webern is hardly an audience favorite, but the Ligeti was surprisingly fun and completely mastered by the Detroit Symphony strings and winds. In particular, Concertmistress Yoonshin Song proved as captivating as ever in her numerous solos, unfazed by the technical challenges of the music at hand. This is Ligeti that sounds more like Bartók in its folksy playfulness. As for the Webern, who has played it better than Herbert von Karajan in Berlin? Not the Detroit Symphony, though there was some very beautiful music here. Both orchestra and conductor just missed the depths of this work.
Karen Gomyo was excellent in the Mozart. Gomyo is a tasteful and intelligent artist who happily eschews showmanship in both her playing and onstage manner. Rafael Frühbeck de Burgos was not a Mozart conductor of any repute, and neither – on evidence here – is Cristian Macelaru. The Detroit Symphony always gives thoroughly professional performances of this composer's music, and this was no exception. Even the finest orchestras in the world occasionally struggle with balancing the great prodigy's charm and strength, and so if this wasn't the most involving performance, I can forgive it. Gomyo's elegance and virtuosity were rather more impressive, though the audience struck me as somewhat underwhelmed. I can only imagine that a slightly tighter orchestral backdrop, or perhaps a slightly less introverted reading of the solo line might have changed that for the better. However, I had no qualms about the overall achievement.
Today's "Schumann Lite" was on full display as Macelaru chose fleet tempos and crisp phrasing for the Fourth Symphony. I found the end result very exciting, and even more well-played. The Detroit brass behaved well, and were mostly balanced with care and concern for the overall ensemble sound. In the last two movements, tempos were very fast, and the result was an occasional sag in the tension. For the casual listener, this probably wasn't an issue; everything was cohesive and full of enthusiasm. In short, this unusual lineup proved more than originally met the eye.
Copyright © 2015, Brian Wigman