The energetic Berg Orchestra gets into the spirit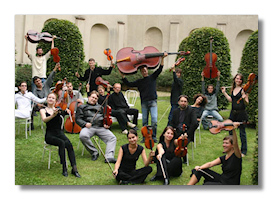 By Frank Kuznik

The Berg Orchestra is opening its spring season with a great musical marketing gimmick: a contest to decide the best new work that the group premiered last year. Seven pieces by young Czech composers were chosen for the competition, which was decided by popular public vote and a professional jury of eight foreign composers.
The contest attracted more than 250 voters – a good number for any modern music event in Prague – and was close, according to Berg artistic director and conductor Peter Vrábel. "There was no single runaway winner," he says. "With the jury alone, there were three first-place winners."
No matter. Through a complicated vote weighting system that was a bit difficult to sort out in translation from Czech to English, a clear winner was determined, and will be performed at the group's concert Thursday night, along with modern music works by Glass, Martinů and Honegger.
This is not the way an orchestra usually operates. But there's little that's typical about Berg, from the music it plays to the venues that it plays in, which have included the Svetozor cinema, Museum Kampa and the city's old sewage treatment plant (now the Ekotechnické museum). "We always try to discover something new for the audience," Vrábel says in a classic bit of understatement.
Read more about this at the Prague Post website:
http://www.praguepost.com/articles/2008/03/12/a-vote-for-modern-music.php