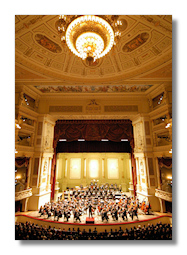 German Orchestra Takes Richard Wagner to Abu Dhabi
The New York Philharmonic is hardly the only orchestra to have visited a "hostile" country. DW spoke to Jan Nast, orchestral director of Dresden's Staatskapelle, about whether music can build bridges between cultures.
The tradition of "classical diplomacy" in Germany runs long and deep. In the 1970s and 1980s, Romanian-born conductor Sergiu Celibidache and the Munich Philharmonic were very active in Communist Eastern Europe and often enlisted by the West German government as cultural ambassadors.
Since 1999, the Argentina-born musical director of Berlin's State Opera House, Daniel Barenboim, has led the East-Western Divan Orchestra, which united Israeli and Palestinian musicians. In 2005, the Berlin Philharmonic made an extensive trip to China, which is the subject of a film released this week.
On Saturday, March 8, the Saechsische Staatskapelle Dresden -- Saxony's state orchestra -- is scheduled to perform an all-Wagner concert in Abu Dhabi in the United Arab Emirates. DW-WORLD.DE spoke to orchestra director Jan Nast about high culture and the everyday task of creating cultural understanding.
Read the complete interview by Jefferson Chase at the Deutsche Welle website: