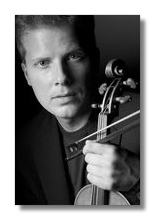 Classical music is enjoying mini-comeback thanks to the Internet
by John Pitcher


William Wolcott's violin studio is about the size of a large broom closet, yet it's often the site of amazing master classes.
Virtuoso Itzhak Perlman has held court there. Pinchas Zukerman, Sarah Chang and other fabulous fiddlers also have squeezed into the room.
They all fit because of a miraculous little invention: the Internet.
"There's an incredible amount of classical music now on the Internet, and it's really helping me teach my students," said Wolcott, an instructor at the Omaha Conservatory of Music. "We can sign on to YouTube right here in my studio and watch the world's greatest violinists perform and give master classes."
Visit the Web and you'll find thousands of classical musicians, critics and fans chattering away in a rapidly expanding classical blogosphere. Internet radio also is streaming performances from major opera companies, orchestras and concert halls. And perhaps most surprising, the Web is fueling a mini-boom in the classical recording industry.
Sales at ArkivMusic, an online classical CD emporium, rose 30 percent in 2007, an astounding figure considering that CD sales in general were down more than 15 percent in the United States last year, according to Nielsen SoundScan.
Classical downloads likewise have been brisk. At eMusic, the world's second-largest digital music service after iTunes, classical music now represents 12 percent of its overall European sales, and its business in the U.S. is not far behind. That's a big increase for a genre that rarely made up more than 2 or 3 percent of total sales in record stores.
Read more about this at the Omaha World-Herald website: