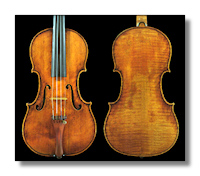 Prized violin plays again for Moscow's elite
By Helen Womack in Moscow

The most expensive musical instrument in the world was played in public for the first time for more than 70 years to 160 guests in Moscow on Saturday in a demonstration of Russia's growing economic and cultural status.
Lawyer Maxim Viktorov invited the cream of Moscow society to the private concert at Pashkov House to show off the Guarneri del Gesù violin he bought at Sotheby's in February for a record-breaking $3.9m (nearly £2m).
The Israeli virtuoso Pinchas Zukerman performed a programme of Bach, Mozart and Bruch with the orchestra of the Bolshoi Theatre. "I tried out the instrument a little in London before I bought it," said Viktorov, 35, a violin collector who likes to play to the piano accompaniment of his wife, Anastasia. "But since then, I haven't been able to touch it. This instrument cannot bear any agitation. I want the maestro, who lives by his art, to be the first to play it so that the violin feels it is receiving the respect it deserves. Then I might find the strength to play it myself because it's a great source of energy."
Read more about this at the Guardian website:
http://music.guardian.co.uk/news/story/0,,2267686,00.html?gusrc=rss&feed=39