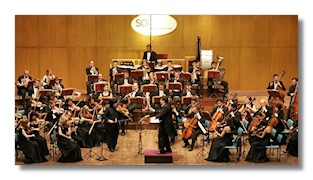 Sound of a hundred violins
By Warren D'Mello

Marat Bisengaliev, from Kazakhstan, is putting together India's first symphonic orchestra, in collaboration with the National Centre for Performing Arts, Mumbai. He talks about the challenges…
Besides creating a new orchestra from scratch, Bisengaliev's biggest challenge is to create an audience for Western classical music.
"The people of Mumbai love the opera," declares Marat Bisengaliev. "The storyline is something like Bollywood." The virtuoso Kazakh violinist is the founding music director of the Symphony Orchestra of India (SOI), the first professional orchestra in India. He has been assigned the mammoth task of building a symphony orchestra from the ground up, in a city where Western classical music is confined to a tiny section of the elite who frequent the National Centre for Performing Arts (NCPA) at Nariman Point, the uptown part of Mumbai. It is, seemingly, quite a formidable task for anyone to pull off, but Bisengaliev brims with optimism. This is not the first orchestra he's put together – he is the founder of the Kazakh Chamber Orchestra and the West Kazakhstan Philharmonic Orchestra (WKPO). Besides, judging from the sold-out performances of the Puccini opera "Madama Butterfly", Mumbai's audience certainly looks hungry for more song and dance.
There is no escaping from music at the NCPA. The rooms at the guest house are all occupied by the SOI's musicians, deep into their daily riyaaz. As we sit in a dark, empty corridor of one the NCPA theatres, low notes from a tuba reverberate in the distance, creating an evocative backdrop for the interview.
So how did the SOI come together? Bisengaliev points out that the orchestra is still in the process of coming together. The SOI was born in 2006, the result of a collaboration between the NCPA and Marat Bisengaliev, and now in its fourth season, is in a dynamic phase of growth. Bisengaliev's job is by no means easy, with sections of the orchestra to be perfected, new players to be auditioned and groomed, and the orchestral repertoire to be worked on. "We are discussing which direction to go. Should we go with operas which people love or should we have more symphony or chamber music or should we have the ballet? I think we should be diverse and do it all," says Bisengaliev.
Read the interview at The Hindu website:
http://www.hindu.com/mag/2008/03/23/stories/2008032350210700.htm