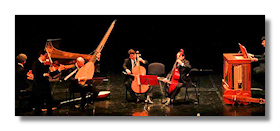 Europe's top classical music festivals
By Alexandra Ferguson

Time your holiday to tie in with one of Europe's classical music festivals. Alexandra Ferguson picks 10 of the best.
The final notes of a Bach partita reverberate in the still air of the Thomaskirche. A string quartet plays beneath flamboyant frescoes in an Austrian palace. And in Bayreuth, Brünnhilde charges once more into the flames.
Soon the summer music festival season will be upon us, and the world's top orchestras and conductors, soloists and chamber groups will converge on the towns and cities where the great composers lived and worked, to perform in palaces and churches, town halls and theatres.
From obscure suites played on period instruments to familiar orchestral works, there is music to suit the casual listener as well as the connoisseur. And with ticket offices open for advance bookings, if you are thinking of combining a holiday with some of the best classical concerts in Europe, you should be making plans already.
Read more about this at the The Telegraph website:
http://www.telegraph.co.uk/travel/artsandculture/1308162/Europe's-top-classical-music-festivals.html