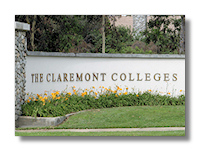 A Departure Sadly Noted
Seldom shown for lack of funding, the Claremont Colleges' rare musical instrument collection is sold.
By Larry Gordon

For lovers of rare musical instruments, the Fiske Museum at the Claremont Colleges long has been an astonishing if somewhat mysterious collection.
Its 1,200 instruments from around the world include an 18th-century Italian mandolin, unusual over-the-shoulder military brasses from the Civil War era, a gourd fiddle from Africa and a 9-foot-long temple trumpet from Tibet.
The museum had limited visiting hours at its home in the windowless basement of Bridges Auditorium for three decades, and then it closed altogether 16 months ago, partly because of a lack of upkeep funds. Now, almost the entire batch – harpsichords, pianos, clarinets, banjos and cymbals – will leave its home in Claremont and be sold for an undisclosed price to a music museum under construction in Arizona.
The move is triggering strong protests from some music faculty members, who say Claremont is losing a cultural treasure. But other officials are expressing relief that the collection will have a better-funded steward and a lot more public exposure at the new Musical Instrument Museum in Phoenix, an ambitious project financially backed by Robert Ulrich, chairman of Target Corp.
Read more about this at the Los Angeles Times website:
http://www.latimes.com/news/local/la-me-fiske21apr21,0,4155195.story