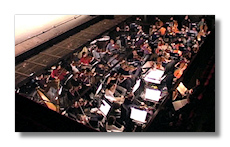 The quiet revolution:
musicians' exposure to noise
New EU regulations aimed at protecting workers from noise will affect orchestras dramatically
By Debra Craine

As a professional dance critic, and a self-confessed ballet nut, I have spent my life in thrall to Tchaikovsky. I love the sound of a big orchestra in a big lyric theatre blasting out one of his big ballet scores. The louder the better, and The Sleeping Beauty best of all. So when I had the chance to sit in the orchestra pit during a performance of Sleeping Beauty at the Royal Opera House it was a fantasy come true. How better to experience the lustrous wonder of that majestic music than to sit beside the musicians who play it?
I knew the sound was going to be fantastic, and it was – Valeriy Ovsyanikov and 75 musicians of the Royal Opera House Orchestra saw to that – and it was indeed thrilling to be down there in the middle of it. But as the Rose Adagio unfolded, and Tchaikovsky's writing grew ever grander, another sensation began to worm its way into my consciousness – pain. My ears started to hurt, thanks to the short sharp shrieks of the flutes, the crash of the cymbals and the blare of the French horns.
Imagine, therefore, how you would feel if you were a professional musician and you were playing Sleeping Beauty every night, or indeed Strauss's Salome or any part of Wagner's Ring cycle? A wall of sound may be exciting for audiences, but it can also mean exposure to damaging levels of noise for musicians trapped in a pit like goldfish in a bowl.
Read more about this at the Times Online website:
http://entertainment.timesonline.co.uk/tol/arts_and_entertainment/music/article3676238.ece