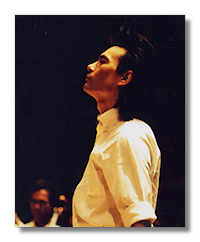 Supercharged Solo Followed by a Cosmic Energy Riot
By Anthony Tommasini

That the Montreal Symphony Orchestra sounded so terrific at Carnegie Hall on Saturday night should reassure longtime admirers of this top-tier ensemble. The orchestra has had a rough few years.
In 2002 Charles Dutoit, the music director who had taken the orchestra to new realms of excellence, abruptly resigned over what he asserted were challenges to his artistic authority. In response, many players went public with stories of longstanding animosity between Mr. Dutoit and orchestra members. In 2003 it was announced that Kent Nagano would become the new music director, but not until 2006. Then in 2005, for the second time in a decade, the players went on strike, staging a five-month work stoppage.
But the musicians seem very content with Mr. Nagano, who began Saturday's program with a glowing, refined yet urgent performance of symphonic fragments from Debussy's "Martyre de St. Sébastien." This 20-minute, four-movement suite was drawn by the composer André Caplet from an elaborate score, including choruses and dance music, that Debussy composed for a play by Gabriele d'Annunzio in 1911.
Read more about this at the New York Times website: