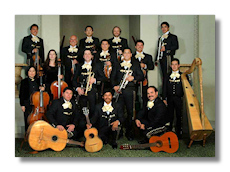 Ensemble brings music of Mexico to concert series
By Jennifer K. Mahal


Classical music and mariachi have always gone hand-in-hand for Southwestern College music professor Jeff Nevin.
Advertisement As a teenager in Tucson, the trumpet player joined the symphony orchestra the same year he became a member of Los Changuitos Feos de Tucson, a youth mariachi group whose name translates to the Ugly Little Monkeys of Tucson. For his undergraduate audition at the University of Illinois, Nevin began playing classical music, but changed to mariachi when nerves made him flub the notes.
And for his doctorate in music theory and composition, one of the three topics for his qualifying exams at the University of California San Diego was on mariachi trumpet styles. The research turned into his first book, "Virtuoso Mariachi."
Read more about this at the San Diego Union-Tribune website:
http://www.signonsandiego.com/news/metro/20080517-9999-1sz17mozart.html