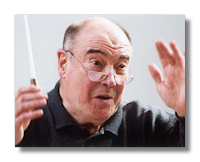 Vernon Handley
Conductor who ignored orchestral fashions in order to champion British composers, and was adored by musicians.

8:17PM BST 10 Sep 2008
Vernon Handley, who died yesterday aged 77, was one of the best-loved of conductors and a great champion of British orchestral music; a protégé of Sir Adrian Boult, he was renowned for holding fast to two principles – an undemonstrative technique and an unfashionable repertoire.
While he was by no means alone in promoting the underdogs of British music, no one did more than 'Tod' Handley to bring them to the attention of the mainstream. His aim was to include at least one British work in all his concerts. Nevertheless, he would acknowledge that "One man can't put it right," adding: "But I've done as much as I could, and I'm going to keep trying."
Read more about this at the Telegraph website:
http://www.telegraph.co.uk/news/obituaries/2778592/Vernon-Handley.html